Surrey History Centre received a Heritage Lottery Fund grant of £67,300 that enabled us to conserve 35 archive volumes of John Broadwood and Sons, the world-renowned piano makers, who supplied great composers such as Chopin and Elgar.
The Broadwood piano archive is of national and international importance for the history of music. Broadwoods were the leading British firm of piano manufacturers throughout the nineteenth century and among the leading firms in the world for much of that period. Their pianos are in almost 50 National Trust houses; in the Finchcocks and Cobbe collections of keyboard instruments; and in national and provincial museums.
The surviving archive, which includes ledgers from 1794, day books from 1798, and production, promotional and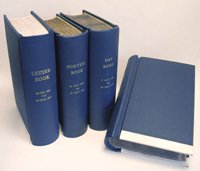 sales records, is the most complete body of records for any musical instrument-making firm. It was rescued by staff in 1977 from the disused former home of the late Captain Evelyn Broadwood and its outbuildings. Many of the records stored in the outbuildings, which included some of the most vital for the firm's history, had suffered serious damage from dampness and mould.
The money has been used to conserve and rebind 31 day books (otherwise known as porter's books) and their associated number books: each piano the firm made bears a unique number and these records identify the piano and provide details of its sale or hiring. Also conserved are a letter book of 1801-10 which provides evidence of the international range of the firm's activities two centuries ago and a book into which price lists (many of them annotated with actual costs) and brochures were inserted, which shows the range of pianos and development and costing of models.
The grant enabled us to bring to completion a project to conserve all the pre-1900 day books, which until then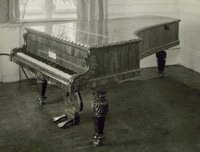 was carried out with assistance from the The National Manuscripts Conservation Trust. The work has been carried out over two years by three specialist firms: Graham Bignell for major paper repair, Riley Dunn and Wilson for minor paper repair and Cedric Chivers Ltd for bookbinding. The volumes are now available for study in our reading room by any member of the public wishing to consult them, and researchers can study the history of the firm and its pianos and the musical and cultural life to which the pianos bear witness. A detailed catalogue of the entire archive has also been completed. The successful conclusion of the project was marked in 2006 with a major exhibition, and associated events including concerts and study days, to raise awareness of the importance of the collection and the conservation work.
Images
Select image to view a larger version.
A set of conserved volumes
The 'Chopin' grand piano no. 17047 on the actual spot in the drawing room of 99 Eaton Place, London SW1, where Chopin gave a recital on 3 Jun 1848 (SHC ref 2185/JB/83/30)