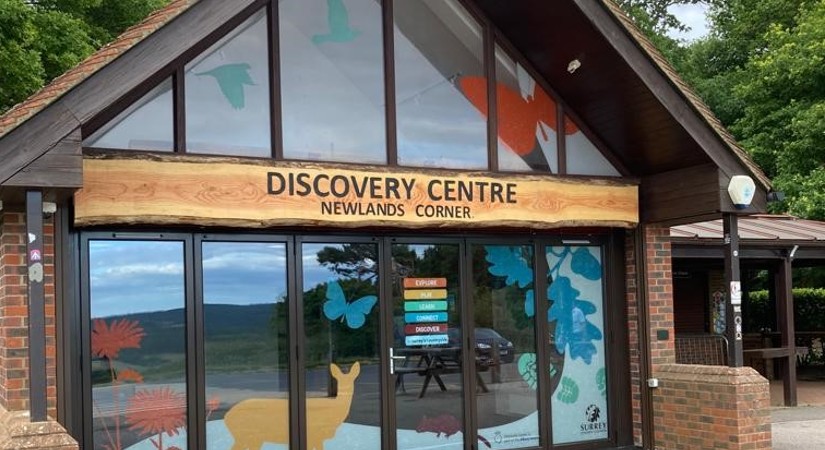 New easy access trail launched Spring 2023
We have worked in collaboration with the Surrey Hills National Landscape, Albury Estate and Surrey Coalition of Disabled People to make Newlands Corner more accessible for all users. After an initial accessibility audit in late 2022, the Newlands Corner Dormouse Trail has been resurfaced to provide a more stable and smooth surface making it suitable for all users to enjoy.
A series of locally sourced timber benches have also been installed along the route to allow resting points along the 1 mile trail. These improvements have been funded through the Department for Environment, Food and Rural Affairs (DEFRA) Access for All Fund.
Other improvements at Newlands Corner
Over the past two years we have been working in partnership with the Albury Estate and local partners to improve the facilities and make sure that residents and visitors of all ages and abilities can enjoy spending time at this much-loved site in Surrey's countryside.
Chair of Surrey County Council, Helyn Clack comments; "It is so important that the countryside is available to all and the new facilities at Newlands Corner provide something for everyone. I would like to acknowledge the great amount of work that volunteers do here and across Surrey's countryside estate, from conservation work parties to bird feeding and more, their valuable efforts make such a difference to our work".
Improvements have included updating and renaming the existing visitor centre to the discovery centre with interactive screens and eye-catching interpretation, providing information about Surrey's countryside in general as well as the local wildlife. This indoor space is now available to hire for events, find out more about this on our Hold your activity or event in Surrey's countryside page.
A new natural play area repurposing sustainable wood from across Surrey's countryside estate has been installed behind the Centre providing the opportunity for children and adults to engage with the local environment as well as the physical and mental wellbeing benefits of being outdoors.
Other improvements include extensive works to refurbish and upgrade the toilet block; a new water fountain installed, re-signing two self-guided walking trails (the deer and the dormouse); a wonderful new wildlife garden with bug hotel and hibernaculum and resurfacing works across the car park.
Cabinet Member for Environment, Marisa Heath comments; "It is wonderful to see this much-loved site rejuvenated. The natural play area will be a huge asset and provides a wonderful opportunity for everyone but especially young people to engage with Surrey's countryside helping to foster a long-term appreciation for our green spaces to protect them into the future."
More improvements to come during 2023
Keep an eye on this page for news on other planned improvements such as the installation of a bird box fitted with a camera that will be live-streamed on to one of the TV screens in the discovery centre. For further visitor information on Newlands Corner please visit Newlands Corner visitor information
More from countryside news