Coronavirus: Important information
Please read the following information before progressing:
Death registrations – All death registrations are now over the telephone. You will not be required to attend the register office in person. Please see our death registration guidance page for more information.
Marriage and Civil Partnerships - Unfortunately we are not able to carry out any marriages or civil partnerships until at least the 1 June 2020. Please see our marriage and civil partnerships guidance page for more information.
Birth registrations - Unfortunately we will not be able to carry out any birth registration appointments for the next 21 days. This will come into effect from Tuesday 24 March 2020 onwards. You can make a claim for child benefit or universal credit prior to the birth being registered. The 42 day requirement to register a birth has been relaxed and no action will be taken if you have not registered within that time frame.
Certificates - We are currently only able to process certificate applications where the certificate is required for urgent legal or administrative purposes. We can issue a maximum of 3 certificates per person only. We are not able to deal with applications for certificates for the purposes of family history research at this time.
Thank you for your understanding at this difficult time.
Registrations
You must book an appointment in advance to register a birth, death or to give notice of marriage or civil partnership at Guildford Register Office.
Our online booking system
Give notice of marriage or civil partnership
Book a registrar for marriage or civil partnership
Please note: Using a Samsung browser will prevent you from completing a booking. Please use an alternative browser.
Birth, death and marriage certificates
---
Ceremonies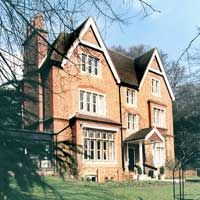 Guildford Register Office is a ceremony venue for:
Address
Artington House
42 Portsmouth Road
Guildford
Surrey
GU2 4DZ
Office opening hours
Monday, Tuesday, Thursday and Friday: 9am - 4.30pm
Wednesday: 9.30am - 4.30pm
Contact Guildford Register Office via our: Contact Centre.
Facilities
Payment can be made by debit/credit card, cash or postal order
There is a free car park on site with disabled parking bays
Ramp access to building
Disabled cloakroom
Ground floor register office
Baby changing facilities.
Travelling to us