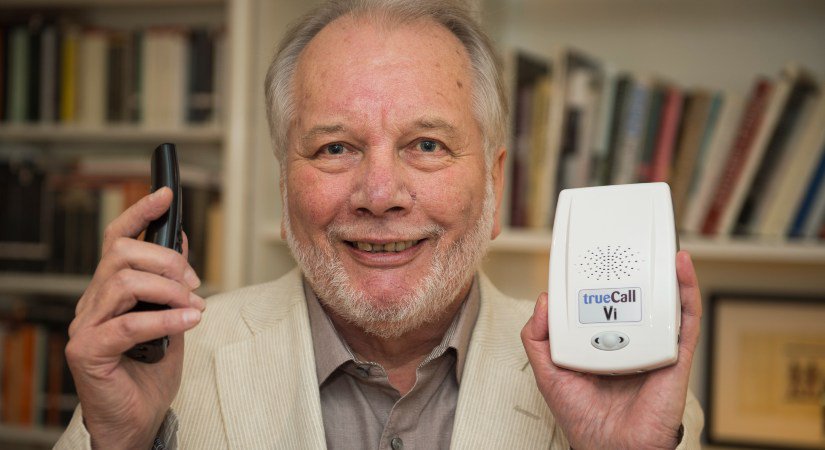 Find out more about Call Blockers
Each year, many residents fall victim to fraudsters, intent on stealing personal and financial information.
Scams take many different forms, but the most common is for fraudsters to cold call. The fraudsters sound convincing, professional and may claim to represent a business you know, for example your bank.
Lee Ormandy, Trading Standards Deputy Team Manager warned, "Each year, many residents are approached by fraudsters attempting to steal their personal and financial information.
Never give personal or financial information out to anyone who cold calls you on the telephone. Be vigilant, do not be pressurized into making rash, ill-considered decisions and if in doubt always hang up or close the door.
If you or someone you know is a resident of Surrey and Buckinghamshire and is susceptible to regular unsolicited scam calls, I would urge them to contact Trading Standards and see if they are eligible for a free TrueCall call blocker."
Blocking 95% of nuisance calls
A trueCall device is a small piece of equipment that plugs into your landline phone socket and blocks unwanted calls automatically. Instead of you trying to work out what's genuine and what's not, it lets your friends and family straight through to talk to you but blocks everyone else.
TrueCall blocks over 95% of nuisance calls but lets friends and family members straight through. The Buckinghamshire and Surrey Trading Standards team can supply and fit this call blocker free of charge (on loan for however long you need it).
Across both counties, Trading Standards have 547 call blockers already installed which over the past year have blocked over 48,000 scam or nuisance calls. These call blockers are estimated to have saved residents £1,824,971 this past year.
Contact Trading Standards via email at ts.prevention@surreycc.gov.uk to apply for a call blocker or call Citizens Advice on 0808 223 1133 for advice and to apply for a call blocker.
Being Scam and Cyber Aware (with BSL interpretation) webinar on Thursday 4 May from 11 am to 12pm
A free webinar, for advice from Trading Standards on how to spot a scam, how to report one and the ways you can protect yourself and others against them with a guest speaker from Thames Valley Police, for cyber security advice. Sign up to the being scam and cyber aware webinar.
More from community matters