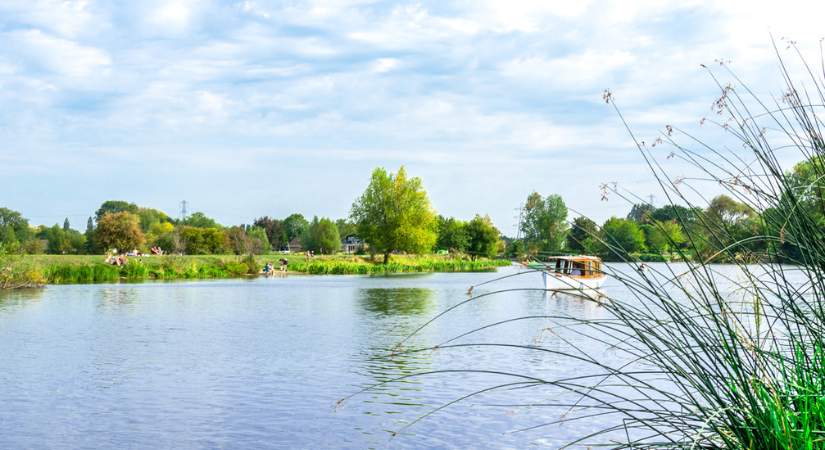 Enjoy Surrey's river and canal side walks this summer
Although the summer solstice has passed, plenty of daylight hours remain to discover and enjoy Surrey's rich cultural landscape. This month, our focus is on river and canal side walks. Surrey has two purpose-built canals, the Basingstoke and Wey and Arun Junction Canals, and two navigable rivers, the River Wey and Godalming Navigations and the River Thames.
Find out more about these canals and rivers on the Surrey's Waterways web page.
During your walk, you will experience various viewpoints that inspire artists and makers in the county. Try to spot what you see in the work of those listed on the Surrey Culture Map.
Article by Luna Russell
The Basingstoke Canal
The Basingstoke Canal was constructed in the late 1700s and spans 37 miles from Byfleet to Basingstoke. However, its commercial use ceased in the 1950s, leading to its deterioration. In 1966, the Basingstoke Canal Society was founded to advocate for its preservation and public ownership. Today, the canal is owned by the Surrey and Hampshire County Councils and with the teams of the Society's volunteers has been restored. As a result, it is now a popular spot for recreational activities such as boating, fishing, cycling, and walking.
The Wey and Arun Canal
The Wey and Arun Junction Canal had a short working life between 1813 and 1868. However, the Wey and Arun Canal Trust is currently working hard to restore different sections of the twenty-three mile canal.
The River Wey and Godalming Navigations
The River Wey was one of the first navigable British rivers, opening to barges in 1653. Nowadays, the Wey and Godalming Navigations remain active and are under the care of the National Trust. Walkers can access the towpath along the entire length of the waterway.
The Thames Path National Trail
The Thames Path National Trail is a long-distance route for walkers following the river from its source in the Cotswolds and ending at Greenwich in London. Along much of the Surrey section of the trail, cycling is also allowed and provides stunning views of wildlife.
Walking the waterways
During your summer outings look out for dragonflies, butterflies, bees, and other insects as they explore the flowers and leaves. With a bit of luck, you may even catch a glimpse of a magnificent kingfisher flaunting its orange and blue plumage or birds of prey soaring overhead. If you're looking for a lovely walk, take a look at these guides for picturesque routes along stunning waterways.
Surrey offers numerous self guided and accessible walks that can ignite your creativity and imagination. Plan your next creative walk using the Self guided walks around Surrey interactive map.
Discover more on the Surrey Culture Map.
More from surrey culture news