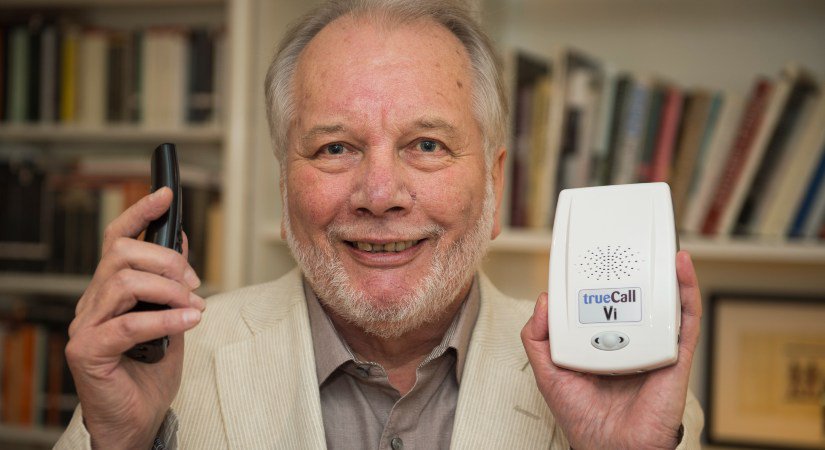 Free webinar about how to spot a scam
Buckinghamshire and Surrey Trading Standards is cracking down on telephone scammers this festive season by encouraging people with vulnerable family or friends to support them in applying for a free* trueCall device, to prevent telephone scammers and nuisance callers getting through on landlines.
Every year, many people in the UK fall victim to fraudsters. Scams take different forms, but the most common is for fraudsters to cold call. Trading Standards estimate that 48,000 scam or nuisance calls were blocked by the trueCall devices in the two boroughs, installed in the year August 2022 to August 2023, saving residents a total of £1,824,971.
Start the conversation
Christmas is a great time for getting together with wider friends and family. Having conversations with vulnerable family members or friends about cold callers is the first step in helping them get the support they need through trueCall.
A great gift for any vulnerable person in Surrey, trueCall devices are provided free of charge to those in need, so please get in touch if you know someone who could benefit from a free device.
Feedback from users of the trueCall devices
Mr J of Camberley – "Since having this device installed, my phone has been free of any nasty calls. Thank you."
Mrs L of Addlestone – "The trueCall device has made such a difference to my elderly mother (98) and my disabled sister (70) as they can now answer the phone with confidence. As their carer I have peace of mind knowing that nobody can get through who they don't know. They were victims of a scam and the phone is now one thing I do not have to worry about. Thank you."
Mr W of Walton-On-Thames – "This Truecall device is one of the best pieces of equipment we have ever had. We are most grateful for this device and it has solved the problem with nuisance callers - virtually overnight!"
Mr B of Dorking – "Having Truecall has transformed my life. I know that if the phone rings it is almost certainly a trusted caller. The recorded display shows what a lot of calls are blocked, many from overseas and probably scams.
Snow room for scammers this Christmas
On December 6 this year Trading Standards are hosting a free webinar that anyone can join called 'Snow Room for Scammers this Christmas' from 2 to 3pm. Speakers from Trading Standards will explain how to spot a scam, how to report one and the ways you can protect yourself and others against scams and they'll have a guest speaker from trueCall, to talk about how call blockers can help to protect against telephone scams.
Sign up for the regular Trading Standards Email newsletter, full of information on how to avoid scams and up to date product recalls.
*trueCall devices are provided free of charge with no ongoing costs to vulnerable people in Surrey.
More from community matters