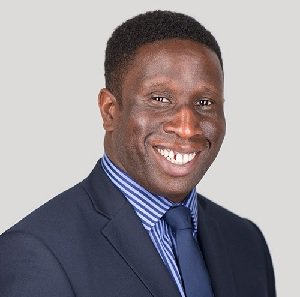 Meet Santigie Singhateh - an Insurance Broker and On-Call Firefighter
Santigie was a fulltime successful Insurance broker when he first moved into Dunsfold with his family. He happened to walk past the fire station with his daughter and saw a recruitment poster in the window which would change his life forever.
He saw that On-Call firefighters were needed in Surrey and decided to apply. After going through the same extensive training programme as wholetime firefighters, he is now on-call (available) for 54 hours a week on top of his 9-5 primary employment to attend incidents, with his 'base' fire station 4 minutes away from his home. This means help can be at the incident as soon as possible.
Santigie said: "From a young age, I wanted to be a firefighter, but life takes you on a different path and I never thought I'd get the opportunity again." "That's why I was so pleased when I saw that Surrey Fire and Rescue Service were looking for On-Call firefighters. It means I can continue with my day job, but also get to do something I love in my spare time."
"I enjoy a physical challenge, so the work is ideal, but it also means I get to save lives, which is by far the best thing about it. It gives such a great sense of achievement to get home after being called out and feel like I really did something worthwhile."
Recalling the first incident he attended, he said: "After completing my basic training and being presented with my pager. My first night of being available we received a call to a house fire with persons reported. Due to my extensive and thorough training I was able to be a valuable asset to the incident commander and this meant that not only did we save the occupants but stopped further damage to their home and possessions. This gave me an incredible sense achievement which I have been unable to obtain in any other role throughout my working career."
The role of an On-call fire fighter is an exciting and varied one and not just about putting out fires. Santigie and the On-Call team carry out Safe and Well visits which cover fire safety, slips, trips and falls, health and general wellbeing and doorstep scams. They are also able to give emergency medical treatment and deal with hazardous materials. The Dunsfold On-call team have also been called on to help their community during emergencies such as flooding.
Find out more about being an On-Call Firefighter with Surrey.