Meet John – Teacher and On-Call Firefighter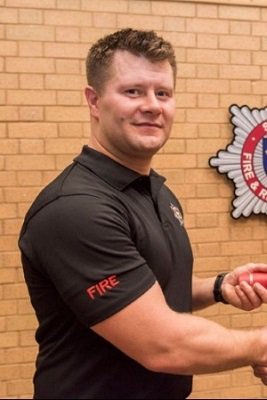 What attracted you to the role of firefighter?
Being a firefighter is something I've always wanted to do. Coming from a Rugby background, I've found many of my skills were transferable, such as teamwork, working under pressure and pushing your own personal limits. So, when I retired from playing Rugby, serving my local community as a firefighter was the perfect substitute.
How did you find the recruitment process?
The recruitment process really tested my limits, the academic side of things I was used to from school, but the physical and mental challenges were completely alien to me. Putting on a Breathing Apparatus (B.A.) set for the first time and going thought the rat run was as exciting as it was scary. I had never realised my dislike for small spaces before, but my determination to pass the test spurred me on.
How much training do you do and what skills have you learned?
There is a lot of continuous training on fire-fighting around specific skills such as; Road Traffic Collisions and Breathing Apparatus, first aid, pumps and ladders but it's the general transferable skills that have made the biggest impact on my life outside of the fire service. My confidence and resilience when it comes to problem solving have been the biggest skill I have taken into my day-to-day life. Rather than getting bogged down with a problem, I now have the confidence to give things a go and enjoy learning from the new experiences.
How long did it take you to become fully trained?
Between my first time walking into Godalming Fire Station to find out what it was all about, to the first day of the training course, was just under a year, then a further three months to complete the course and finally get on the fire engine!
What is your greatest achievement as a firefighter?
Riding the fire engine for the first time. That made it all real. I'd worked really hard over the previous year to complete all the exams, training and assessments and climbing on the truck for the first time and rolling out the doors was when it really brought home that I'd done it.
What do you enjoy most about the role?
I enjoy providing a service to my community and the camaraderie of the crew. You feel like the protector of the town, you're looking over your community while they sleep and that gives you a great feeling of purpose. When people within your community need help, you're there to offer that help.
How does your commitment to SFRS impact your life - both positively and in more challenging ways?
The work life balance has been the longest and trickiest part to get right. Everyone around you is on call when you are. The firefighter's alerter wakes them in the night too, they worry and are left to themselves when you're out. So, carving out standalone family time is very important. It takes work but finding the balance is very achievable.
How do you balance your other work commitments?
Fortunately for me, the school is very understanding when I'm late in on the odd occasion.
What do your friends and family think of you being in the fire service?
My family are very proud of me and very interested in what I do. Friends are constantly asking about the role and if I've been to anything 'interesting' lately.
How does being a firefighter compare with other jobs you've done?
It's nothing like any jobs I've ever had, and it doesn't feel like a job. All my spare and leisure time is taken up with being on call because that's what I want to do. It is my dream job with the flexibility of being able to do more if I want to or do less if I've had a busy week and need a rest.
What advice would you give to anyone wanting to become a retained firefighter?
Get down to your local station (with a packet of biscuits) on a drill night and say hello. For me, it was one of the hardest steps I had to take, jumping into the unknown but it was the best decision I ever made. Don't leave it until next week, or next month when work is quieter, do it now. You won't regret it.