We think it's really important to ensure all aspects are covered when discussing the direction for Surrey Fire and Rescue Service which is why our Service Leadership Team (SLT) is so diverse with such a wide variety of skills and backgrounds.
Here's a brief introduction to SLT at Surrey Fire and Rescue Service (SFRS).
Deputy Chief Fire Officer, Dan Quin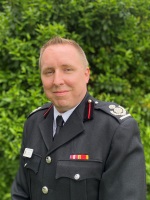 Dan joined SFRS in 1999 as a Firefighter at Leatherhead Fire Station and since then he has worked in a number of teams including Training and Development, Corporate Planning and Improvement, Operational Assurance, Operational Development and Mobilising Control.
As Acting Chief Fire Officer, he is ultimately responsible for the service and liaising with colleagues in the wider Surrey County Council. He also forms part of Surrey County Council's County Leadership Team.
He is also the National Fire Chiefs Council Lead for Transportation – Road and the Vice-Chair of the United Kingdom Rescue Organisation.
Dan said, "My favourite part of the working at SFRS is working with and alongside our team. A group of individuals who every day, across all areas of the service, aspire to help others, putting others before themselves. The opportunity to work with like-minded people, knowing that we are all doing good and the right thing, even if difficult, is a real motivator. I am proud of everyone and our service."
---
Chief of Staff, Bernadette Beckett
Bernie joined SFRS in June 2019 after working in Advisory, Conciliation and Arbitration Service (ACAS), Essex Fire and Rescue Service, NHS, Parole Board and other local authorities.
She works closely with the Chief Fire Officer to lead the service as well as the Cabinet Member for Community Protection. Bernie is also one of the lead sponsors for our Neurodiversity Staff Group.
Bernie said: "I am really proud to work here, I enjoy getting out and about to talk to all the different teams within the service most. It's great to hear everyone's experiences, point of views and work with them on how we can improve services and involve them throughout."
---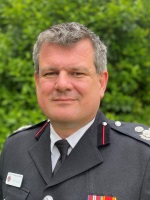 Assistant Chief Fire Officer, Roger Childs
Roger joined SFRS in 1997 as a firefighter and developed through the ranks to this current position.
Within his portfolio he's responsible for Response, Community Resilience and Logistics and he supports the Chief Fire Officer in his absence providing visible leadership for the service to match the values, behaviours and expectations of the leadership and the public.
Roger said: "I'm most proud of the work everyone here does and everything that we, as a whole service, achieve. People are kept safe as a result of the contribution of every single person in this service and I am extremely honoured to work with them."
---
Head of Change, Elizabeth Lacey
Lizzie joined Surrey County Council in 2015 working for the Highways service within a Business Planning and Change role. She later joined SFRS in that capacity in 2019.
She is responsible for the overall delivery of improvement projects within the service, the Change budget and deputising for the Chief of Staff when required.
Lizzie said: "I enjoy working for the organisation, but particularly for SFRS. I know the effect that my portfolio has on others throughout the service, so I ensure I spend time with crews and teams regularly, listening to their feedback and discussing the potential impact from upcoming changes."
---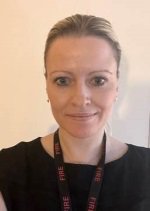 Head of Data, Digital and Specialist Projects, Sally Wilson
Sally has worked for SFRS since 2000 and during this time she has worked with colleagues within the sector on improvement frameworks, performance, data, risk management and I have worked with suppliers on digital delivery.
Within my role in SFRS I am responsible for Joint Fire Control, the Digital Strategy and related IT projects, performance management, data compliance, governance and intelligence to support business planning and project delivery.
The specialist projects element currently relates to extending our Joint Fire Control (JFC) to include East Sussex Fire and Rescue Service. This follows the successful implementation of JFC across Surrey and West Sussex in December 2019.
Sally said: "I love the collaborative element of my role. Working together we achieve high quality outcomes for the benefit of our communities. This is only possible by working together, sharing ideas, and combining our skills to achieve a common goal."
---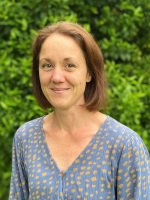 People and Organisational Development (OD) Lead, Danni Lamaignere
Danni joined our service in 2015, after having previously worked at the World Wildlife Fund and The British Refugee Council. She has had experience of working in varying HR roles mostly in public and charity sectors, at both strategic and operational level. She has an LLB in Law (with European Legal studies) and spent the third year of her degree in the Netherlands studying European Law. Whilst working in HR and OD she attained her post-graduate diploma in Human Resource Management and is a Chartered Member of the Chartered Institute for Personnel and Development.
In her current role, Danni ensures she and her team deliver the People Strategy for the service ensuring its alignment with the Making Surrey Safer Plan and overall service's vision and values.
Danni said: "My whole role centres around people and I feel grateful to work with such wonderful and diverse people. Especially those who are really striving to develop our workplace to ensure it is an open, inclusive and all round better place."
---
Area Commander responsible for Professionalism, Richard Priest
Richard joined Buckinghamshire Fire and Rescue Service in 1994 and worked across the service in various locations throughout the county. He has experience working in many different areas of the service here too including prevention, protection, operational training, resource management, as well as people and organisational development.
Prior to joining us in Surrey in June 2022, Richard was seconded to our inspectorate, Her Majesty's Inspectorate of Constabulary and Fire & Rescue Services, as service liaison lead for two and a half years, where he led numerous inspections and took part in many others. This gave him the opportunity to see how services operate across the country.
---
Area Commander responsible for Operational Response, David Nolan
David joined SFRS in 2020, having transferred from Kent Fire & Rescue Service, after 20 years' service. During David's previous service, he had been responsible for Operational Effectiveness, and managing departments such as Incident Command, Hazardous Materials, procedural and equipment development, and performance management.
As the Area Commander for Operational Response, David has overall responsibility for the Operational crews, how they respond, and ensuring their effectiveness. David manages the commanders and crews within the services 25 fire stations and directs their overall performance.
David is also an Armed Forces Champion, having served prior to joining the fire and rescue industry, and latterly commissioning as an infantry officer from the Royal Military Academy Sandhurst, where he is still an army Reservist.
David said: "I pride myself on building strong relationships with crews, stations and teams to help support and motivate them. I think we can all empower each other and I really enjoy helping to build a positive, enjoyable and productive environment."
---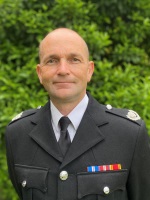 Area Commander responsible for Community Resilience, Damian Watts
Damian started his fire and rescue service journey in 1998 in Hampshire, spending 21 years there. After passing out as a firefighter at 28 years old, he spent several years learning before being promoted through the junior officer ranks on station, finally ending up at Training Centre. His later posts included Station Manager in Protection and Fire Investigation.
During this time, Damian also undertook a Fire Engineering degree and Fire Investigation MSc. The MSc research was focused on Poly Aromatic Hydrocarbons and Cancer in firefighters was published in the respected scientific journal Nature. It was the first UK fire led research paper published in the UK. He was then promoted to Group Manager on the Isle of Wight, from there he joined Surrey as the Prevention Lead.
Now he's our Area Commander for Community Resilience leading our prevention and protection teams.
Damian said: "There will always be difficult times but knowing the good we can do will always carry us through. I am immensely proud of all our teams but particularly those that I lead in Community Resilience. Their passion and dedication is my favourite part of SFRS."
---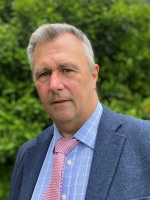 Head of Logistics, Rory Coulter
Rory joined SFRS in 2005 after previously working in Northern Ireland Fire Brigade for 15 years. He started as a vehicle technician and by 1999 became the fleet manager.
In SFRS he's responsible for the Logistics Team which delivers vehicles, equipment, infrastructure, hydrants, general stores and uniform, along with research and development.
Rory said: "As my life has evolved around engineering of almost any form, one of my favourite things about working at SFRS is the process of finding and bringing into the service fantastic assets. As a result, our people have the best tools allowing them to do their job safely and efficiently, which ultimately keeps people safe."
---
Business Manager, Tina Thorburn
Tina has worked for Surrey County Council since 2001 in various directorates including Highways and Customer Service. She joined Surrey Fire and Rescue Service as Business Manager in December 2019. Her role is primarily to support the Chief Fire Officer, Chief of Staff and our Cabinet Member.
Tina leads on member communications with the support of the SFRS Communications Team. She responds to resident, councillor and MP enquiries, draft reports and responds to questions being taken to political meetings such as full council or the Communities, Highways and Environment Select Committee. She also produces updates for councillors if there's been a major incident and she help maintain the public website.
---
Senior Communications Manager, Sophie Read
Sophie has lead Surrey Fire and Rescue Service communications since 2020. Her role is to manage the reputation of Surrey Fire and Rescue Service, lead on both internal and external communications (this includes social media, media management and more). Her team lead on all campaigns from fire safety to recruitment and everything in between.
Prior to joining, Sophie worked for West Sussex Fire and Rescue Service within their communications and engagement team and also supported wider council communications priorities before that.
Sophie also leads on Coroner's, Armed Forces and Surrey Prepared communications.
She said: "I thoroughly enjoy supporting the service to deliver key priorities and a lot of the time, finding the most creative ways of doing this. I especially love getting people from within the service involved so that we can all be a part of news, campaigns and working towards keeping residents informed and safe."