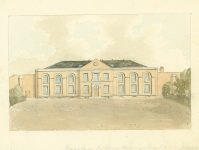 The Court of Quarter Sessions essentially administered Surrey until the creation of Surrey County Council in 1889. The court began in the late middle ages as a criminal tribunal but over the centuries also accumulated a wide range of administrative and supervisory responsibilities. After 1889, Quarter Sessions continued as a law court until 1971, when they, along with the Assize courts, were abolished by the Courts Act 1971 and replaced by a single permanent Crown Court of England and Wales.
The justices of the peace who presided over the county's Quarter Sessions were appointed by the Crown from among the nobility, gentry and clergy of Surrey and, as the name suggests, the Court held its sessions four times a year (Epiphany, Easter, Midsummer, Michaelmas), moving around the county each year between Guildford, Reigate, Kingston and Southwark.
The records of the Surrey Court of Quarter Sessions survive in great abundance from the mid 17th century through to the abolition of the court and are a vital resource for family, local and social historians. They are held under the reference QS and the catalogue can be consulted online and at Surrey History Centre.
The Quarter Sessions came to be responsible for three main areas of activity:
Trying cases of crime, not serious enough to be sent to the Assizes (until 1971)
Administering the county's prisons, roads, police force and asylums until the late 19th century
Licensing and registering
The court's chief officer, the Clerk of the Peace, also provided an official depository where people could consult plans of undertakings such as canals and railways, and maps and awards relating to the enclosure of commons and public fields.
Crime and punishment
Quarter Sessions, acting as a criminal court sitting four times a year, could try many categories of offences. Until 1750 it mainly dealt with minor offences or misdemeanours (eg assault, fraud, embezzlement) and with petty larceny (theft of property valued at under a shilling); thereafter it also dealt with some more serious crimes or felonies, chiefly other types of theft. The court could not impose the death sentence, and all cases in which this was an option went to the Assizes (records at The National Archives) which were presided over by touring justices from the central courts. A separate guide has been produced for researchers wishing to trace a particular criminal or investigate crime more generally.
A searchable database of crimes coming before Quarter Sessions between 1780 and 1820, transcribed from the court's Process Books (QS3/5/-) and Calendars of Prisoners (QS2/6/-) has been published on CD by Surrey History Trust. This data can also be accessed via the Findmypast website.
Printed calendars of prisoners tried before Surrey Quarter Sessions and Assizes, 1848-1902, which include the verdict and sentence imposed by the court, can be searched via Ancestry.
Many minor cases were dealt with by local justices acting in pairs or in petty sessions. Very few records of this more local activity have survived before the late 19th century, but minor offenders sent by magistrates to the houses of correction for short spells of hard labour might appear in the calendars of prisoners (QS2/6/- and QS3/4/-).
However from 1831 details of cases dealt with summarily (without trial), returned by local magistrates, survive in registers kept by the Clerk of the Peace (QS4/-).
Administrative
The County Gaol, Houses of Correction, Reformatories and Industrial Schools
The county gaol, rebuilt after 1791 in Horsemonger Lane, Newington, and demolished in 1879, was used to hold debtors, people awaiting trial (at Quarter Sessions and Assizes) or those awaiting punishment, which might be corporal punishment, execution or transportation (common after 1718: to America and West Indies until late 1770s, to Australia, 1788-1868; The National Archives has records of the transportation process). Increasingly imprisonment with hard labour was used as an alternative and convicts were sent to Houses of correction, originally established to deal with vagrants and the idle and disorderly poor. Surrey had houses of correction at Kingston, Guildford, Southwark and Brixton (built 1818). These were also used as pre- and post-trial 'holding' gaols and all were closed in 1852, when a new house of correction opened in Wandsworth, now Wandsworth prison.
The county gaol is described in vol 25 of the Survey of London and many fine plans of several of the prisons are held in QS5/4/6/-. No registers of all those held in any of the prisons survive except for Wandsworth House of Correction from 1858, at the National Archives (PCOM 2/230-291). A register of those who died in the county gaol, 1798-1878 (from disease, through execution or suicide), is held as QS5/4/7/24 (online index available). Conditions in the prisons are best examined through the rules (QS5/4/7/1-23) or the reports of the committee of visitors, governors, chaplains and surgeons in the sessions bundles (QS2/6/-) and order books (QS2/1/-).
The court first took on running a reformatory in 1884 when it leased the Surrey Industrial School at Byfleet. Before then, juveniles were sent to licensed reformatories around the country but in 1887 a new County Industrial School in Mayford, Woking, opened. Surviving records relating to the Quarter Sessions' responsibility for reformatories are held as QS5/4A/-. Among these records are some fascinating annual reports of the Surrey Society for the Employment and Reformation of Discharged Prisoners.
The Surrey County Constabulary
A county police force was established by the justices in 1851 and records relating to the management and supervision of the force are held as QS5/3C/- (police personnel and crime records are to be found among the records of the Surrey Constabulary (CC98).
Lunatic Asylums and Institutions for Mental Defectives
The inspection and licensing of private asylums was the responsibility of the Justices of the Peace from 1774 and reports on licensed asylums, often with lists of patients, can be found in QS5/5/-.
In 1828, justices were empowered to set up county asylums for pauper and criminal lunatics and the Surrey justices opened their first asylum at Springfield, Wandsworth, in 1841, followed by a second asylum at Brookwood, Woking (1867) and a third at Cane Hill, Coulsdon (1883). Records relating to management of the county asylums are held as QS5/6/-, although these do not include records of patients. Between 1914 and 1960, the justices also had to inspect institutions for 'mental defectives' and certify that the patients should remain in care. The records relating to this function (QS5/6A/-) do include details of patients.
Highways and bridges
The justices oversaw the network of roads and bridges within Surrey and references to this administrative process will be found throughout the Order Books (QS2/1/-) and papers (QS2/6/-) from the 17th century. Justices also had to approve any diversion or stopping up of a road or footpath and records of these decisions are held in QS5/8/-, covering 1784-1971. In the second half of the 19th century the justices were empowered to create highway districts and oversee the establishment of a network of main roads. Records relating to these functions and to the work of the justices' Highways Committee (from 1879) will be found as QS5/8A/- and QS5/8B/-.
New buildings
Under the Building Act of 1774, detailed prescriptions were laid down to make London buildings more fireproof by ensuring walls, chimneys, doors and windows were built of the correct materials The Surrey parishes covered by the Act were Bermondsey, Rotherhithe, Southwark, Lambeth and Newington and papers survive for the period 1801 to 1845 (QS5/9A/-).
Licensing and registration
Over the centuries many laws were passed requiring certain activities to be licensed by or registered with Quarter Sessions or the Clerk of the Peace, often as a means of controlling dissent, subversion or disorder.
Inns, Alehouses and Places of Public Entertainment
Local justices were responsible for licensing alehouses within their hundred or petty sessional division from 1552. Few records survive for the early period, but in the 18th century they had to send in details to the Clerk of the Peace whose registers of licences granted survive for the period 1785 to 1827 (see QS5/10/-). They can be searched via Ancestry. From 1752, all places kept for public dancing, music or other entertainment within twenty miles of London were also to be licensed in Quarter Sessions. The granting of licences is recorded in the order books (QS2/1/-) and some plans from the 1880s are held in QS5/11/-.
Electoral registration
To reduce disputes at parliamentary elections over who was qualified to vote, the Clerks of the Peace had to refer to copies of the parish Land Tax returns and these survive for the period 1780 to 1832 (QS6/7/-). They can be searched via Ancestry as can the electoral registers introduced after the Great Reform Act of 1832 (QS6/7A/-).
Other licensing and registration
Selected other establishments and activities had to be licensed or registered at various periods. Among those for which good records survive are, in chronological order:
Non-Conformist (from 1689) and Catholic (from 1791) meeting-houses and chapels (QS6/13/-)
Gamekeepers, 1789-1940 (QS6/6/-)
Friendly Societies, Loan Societies and Building Societies, 1794-1909 (QS6/9/-)
Barges, 1795-1807 (QS6/2/-)
Freemasons' Lodges, 1799-1915 (QS6/5/-)
Printing Presses, 1799-1881 (QS6/14/-)
Slaughter houses, 1802-1844 (QS5/11A/-)
Charities, 1812-1888 (QS6/1/-)
Savings Banks, 1817-1844 (QS6/10/-)
Enrolment and deposit
By various Acts of Parliament, certain records and agreements were ordered to be enrolled by the Clerk of the Peace or deposited with him for local preservation and public consultation. Although this function was generally transferred to the County Council after 1889, many of the series of records run across the divide.
The most significant of these records are the deposited plans (QS6/8/-) and books of reference relating to schemes for public utilities, such as canals, railways, docks, turnpike roads and bridges, tramways, and water, gas and electricity undertakings.
Such schemes frequently involved compulsory purchase of land, and the books of reference list owners and occupiers affected by the proposals. These records, a vital source for the development of Surrey's infrastructure, cover the period 1789-1982.
Public companies responsible for turnpike roads, railways and gas, water and electricity companies, had to submit annual returns of their finances and these are held for the period 1820-1971 (QS6/3/-).
Another vital source for the development of Surrey's landscape are the enclosure awards (generally with maps) relating to the enclosure and allotment of open fields and meadows or commons, heaths and greens by commissioners appointed under Private and Local Acts and the General Inclosure Acts of 1836 and 1845. These were also statutorily enrolled or deposited with the Clerk of the Peace and cover the period 1779-1906 (QS6/4/-). Of related interest are the enrolled copies of agreements between lords and tenants for the enclosure of parts of commons for the preservation of timber under Acts of 1756 and 1757, which list the names of tenants in agreement with the enclosure. They survive for the period 1764-1818 (QS7/4/-).
Image
Sessions House for Surrey, Horsemonger Lane by John Hassell, 1823 (SHC ref 4348/6/6/3)