Aspire is a project designed to help and support anyone who faces challenges in their life into volunteering.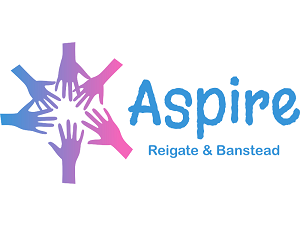 Below we hear from a volunteer and a family member of a volunteer who have been supported by Aspire Reigate & Banstead:
"I met with Chrissy from the Aspire Project initially, who then referred me to the Patch working Garden Project. I was going to help out with Administrative work, however, Carmel (Project Leader), suggested that I have a go at something outside. I started clearing brambles and found this surprisingly enjoyable. I then decided to keep doing outside work instead of Admin. I particularly enjoy the woodwork, and since starting there I have built a Bird nesting box, 2 Bat roosting boxes and quite a lot of plant boxes, which then have plants put into and then sold.
Time always goes very quickly and there's no pressure to do anything. It makes you feel more worthwhile and there is a real sense of fulfilment and a sense of pride in what you are doing. It's a positive cycle of practical skills and interaction with people. I always go, always look forward to it, and always come back feeling great.
It's very rare that you find something totally positive, but this is. It's been a revelation! I really enjoy it!"
Aspire Volunteer
---
"Myself and the rest of my family felt that it would be beneficial for Joan to get involved in some voluntary work, even if it was only a small amount. We felt it would help to keep her in touch with the world of work.
Joan finds it difficult to deal with people and we knew she would need a lot of support in any voluntary situation. I found it very difficult to find anything that might be suitable but then we were put in touch with Aspire.
Chrissy McDougall (The Aspire Project Coordinator) tried several avenues and eventually found a place where Joan could volunteer. She even attended herself on the first two sessions to help settle Joan in. Unfortunately that particular outlet has had to close down but I feel confident that Aspire will be able to help us again.
Chrissy has also forwarded details of some short courses that Joan may be able to attend."
Maureen (Joan's sister)