Average Surrey resident's carbon footprint
Do you know what your carbon impact is? Select a category below to find out more.
This interactive graphic has been created by Surrey County Council to explain climate change and what we can all do to reduce our emissions. The data has been taken from our climate change strategy, which contains full references to studies as well as the complete details on our commitments, actions and what we're asking the government to do. The percentage numbers in the graphic show the carbon footprint of an average Surrey resident.
If you would like more information, you can read the full climate change strategy.
For ease of use, this graphic looks at four main categories of carbon emissions – travel, home, food and consumer goods. These categories represent our consumption based-emissions, that is the emissions from the goods and services that we consume as individuals, and therefore have the potential to reduce.
Each section explains how carbon emissions are generated, what residents can do to reduce their emissions, and what we're doing as a council to address this area.
In some sections, we have included links to external websites to provide further information for residents. This does not constitute an endorsement of products or services and we advise residents to do their own research.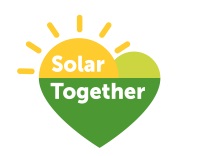 Solar Together Surrey - buying solar panels and battery storage made easy
Solar Together Surrey is an innovative new scheme offering high-quality solar photovoltaic (PV) panels and battery storage. It is a group-buying scheme, which brings Surrey's households together to get high-quality solar panels at a competitive price, helping you through the process and keeping you informed at every stage.
Keep up to date with the latest news
Subscribe to the climate change newsletter

Keep up to date on progress towards our target of making Surrey net zero carbon by 2050, and find out what you can do to help. Sign up to our newsletter to get updates.
To sign up, simply fill in the form and click the subscribe button. Read our privacy notice to find out how we store, use and collect your data.