This information about access to Surrey History Centre for disabled people is intended to help them plan their visit.
If you are disabled we advise you to contact Surrey History Centre before you visit. It is always helpful to know in advance if you are likely to need any special help or if you just need some general advice before your visit.
Please feel free to ask staff for help at any time.
Parking
There are disabled parking spaces available in our main car park. Reservations are not usually necessary but, if you would like to reserve a space, please contact us.
Entering the building
Our public entrance on Goldsworth Road has a revolving door and an automatic door. The automatic door can be activated by pressing the red button marked on the right. The door will open outwards but is touch sensitive.
Public reading rooms
Our main reading room, the Heather D Hawker Room, which includes the local studies material, and our event and seminar rooms are on the ground floor with easy access. In addition both the locker room and refreshment room can accommodate most wheelchairs.
Facilities, including an accessible toilet, are located in the foyer.
Fire alarm
The fire alarm is a loud continuous ringing bell and, should the necessity arise, staff will escort all readers out of the building through the nearest ground floor fire exit.
Microfilm/fiche readers
Our fiche and film readers and two reader-printers are accessible and at a suitable height for wheelchair users.
Some of our film readers are powered; others are manual.
Computers and tape recorders
If you need to use a computer or a mains powered tape recorder, please let us know in advance as we can then reserve a space near a power point
Researchers with sensory impairments
Guide dogs are welcome at the Surrey History Centre (although no other animals). If you are bringing an assistant or companion to help read the documents, please let us know in advance.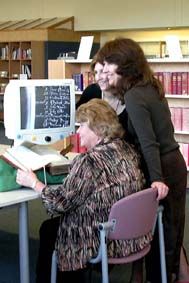 We have a selection of magnifying glasses that we are happy to loan to visitors, although we do not allow the use of reading machines as these can damage documents.
Surrey History Centre has a CCTV scanner to help visually impaired researchers access our collections. This fantastic piece of equipment allows any document, illustration or piece of text to be enlarged onto a TV screen, making it easier to see. Equipped with visual aids suitable for different levels of impairment, ranging from colour blindness to macular degeneration, the scanner can
magnify in true colour
change the colour and contrast on screen of any item being scanned
underline the text of a document - this makes the reading of old deeds and ancient handwriting much easier!
It can also greatly magnify old photographs for dating purposes and even help identify regimental cap badges. The scanner is available to use in the public searchroom and can be booked for 2 hour slots during our opening hours.
Induction loops are fitted in the seminar room, and are planned for the foyer desk and reception desks in the Heather D Hawker Room. Hearing aid users should switch to the 'T' setting to make use of this facility.
Reference numbers of documents ordered up from the strong room are displayed on white sheets behind the reception desk. However, if you prefer, please ask staff to notify you when your documents are ready.