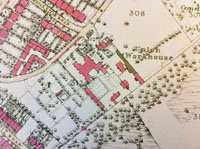 The application and report books were a record of those applying for poor relief, kept by the relieving officer. They hold a wealth of detail relating to the applicants, which may include their immediate family, their occupations, addresses, ages and the reasons why they applied for poor relief. Sadly, very few survive for Surrey (with the exception of Godstone Union which has a set of these books from 1869 to 1915) but those for Richmond Union are a particularly rich source.
Applications for poor relief were made either to the Relieving Officer or to the Board of Guardians directly, and the details entered into the book. The books were 'signed off' by the Board of Guardians every quarter, and a note of the decision or direction by the Board inserted at the quarterly meeting.
The books are laid out over two pages, and generally give the following information:
Number in the Relief List
Date of Application
Names of Applicants
Age
Residence
Length of time in Union
Calling or Occupation
Marital Status
Ability (i.e. whether disabled)
If in receipt of relief
Present cause of seeking relief
Observations and names of relatives liable to relieve the applicant
Weekly earnings
Date of last visit
Quantity and nature of relief
Relief ordered by Guardians
Other orders
Observations
In all there are 91 registers held at Surrey History Centre and a team of volunteers have painstakingly indexed them all. The indexes include the date of application and the age of applicant. The reference number for the volume is given (i.e. BG10/55/2) and, if appropriate, the page number.
In the course of their work, our volunteers have noted several points which may help researchers using these indexes:
There is often information about family members who are not applying for relief, for example, references to desertion by spouses or individuals in gaol
Not all the volumes have page numbers but since they are listed in date order, the individual names are not difficult to find
Occasionally, where the book has been damaged or handwriting is poor, the name is illegible. This will be shown as [????]
Quarterly lists often do not have a date, so they have put the month only
Where no exact dates are shown this is because no dates are listed in the books
Younger children are often added to a family group even if they were born some time later than the application date
Where the applicant has died, both 'dead' and 'deceased' were used in the descriptions. They have been transcribed as written
In some family groups there are step children (with a different surname). These will be 'lost' in the alphabetical list, although they would be listed with their parents
Families moved around and this can be seen more clearly from the alphabetical indexes
Fractions such as 2¼ have to be shown as 2.25
While every effort has been made to ensure that these transcriptions are correct, if any errors are found please contact Surrey History Centre and we will make any appropriate corrections.
If your ancestors appear in the application and report books, why not visit the History Centre and see if you can find anything more about them? We hold the census for Surrey (which includes the parishes in the Richmond Union), parish registers, rate books and numerous other sources for the family and local historian.
To search the indexes, simply select the filenames below:
---
Files available to download