The mission of Surrey Record Society is to publish records relating to the historic county of Surrey, which includes the parishes of South London as far east as Rotherhithe. Since its foundation in 1913 the society has published transcripts, translations and abstracts of texts ranging in date from the twelfth to the nineteenth century.
The subject matter is extraordinarily varied, including records of central and local government, documents illuminating the ecclesiastical, manorial, industrial and military history of Surrey and private diaries and correspondence. Each text is provided with a full general introduction by expert scholars, to explain, interpret and set the text in context.
Through its publications many important documents (often in Latin and difficult to decipher) held in repositories in and outside the county have been made accessible and comprehensible to those interested in exploring Surrey's rich history and the story of the people who lived in the county. If the society's work is to continue, it needs the support of all those individuals, local societies and institutions who benefit from its publications.
Membership
Individuals and institutions alike are eligible for membership at an annual subscription of £5. Members receive a copy of any volume published in a year for which they have paid a subscription and can buy back numbers of other volumes at greatly reduced prices. Some older volumes are now available free of charge apart from the cost of postage and packing. There may be years in which no volume is produced.
To join the society complete the application form below and return it to the Hon Secretary SRS, c/o Surrey History Centre, 130 Goldsworth Road, Woking GU21 6ND. Tel: 01483 518737. Email: shs@surreycc.gov.uk
It saves on the society's administrative overheads, if members pay by standing order. If you would like to do this please complete and return the form below.
What's new from Surrey Record Society
Vol XLVII Surrey Census of Nomads ed. Alan Wright, 2020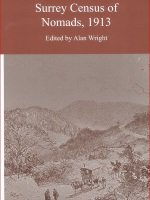 Free to members. Price to non-members £20. Postage and packing £3.50 (UK). Available to purchase on the Surrey Heritage online shop.
In 1913 Surrey County Council organised two 'censuses of nomads' in the county. These provide a remarkably detailed survey of the itinerant population in Surrey at the time. Although individuals are not identified, the censuses identify the different kinds of people travelling within Surrey simply in search of work or as Gypsies and others for whom a travelling lifestyle was part of their culture, including showmen, hawkers, fruit pickers, charcoal burners, general labourers and tramps. The number of men, women and children in each encampment on the day of the census is recorded along with the type of dwelling they occupied, including tents, vans, caravans, sheds, barns and stables.
This groundbreaking volume publishes transcripts of the census returns in full, along with a selection of correspondence from County Council and private archives over the preceding fifteen years, relating to the relationship between the travelling and settled communities and the planning and implementation of the census.
Forthcoming volumes
Volumes in preparation include:
Surrey-related extracts from the world's first periodical, The Gentleman's Magazine, 1731-1754, edited by Julian Pooley
The register of Thomas Langton, Bishop of Winchester, 1493-1501, edited by Dr David Wright
Private letters of Tudor women from the extraordinary archive of the More-Molyneux family of Loseley Park
See our list of Surrey Record Society publications many of which can be purchased on the Surrey Heritage online shop.
---
Files available to download
---
In this section