Excavations at Church Lammas and Wey Manor Farm
By Phil Jones
This volume includes reports on two sites where Late Upper Palaeolithic occupation has been revealed, and begins with a review that assesses how such fragile and elusive evidence can be more successfully identified in future archaeological work within lowland Britain.
The site at Wey Manor Farm, Addlestone, was an undisturbed struck flint scatter of Creswellian type, probably belonging to the 12th millennium BC. The scatter includes almost 400 struck flints and represents a short-lived episode of butchering and re-tooling by a hunting party. Use-wear on 18 flints indicates butchering, hide working, tool and ornament manufacturing and weapon re-tooling.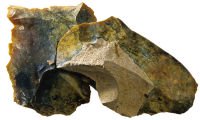 The site at Church Lammas, near Staines, revealed two clusters of flint debitage and tools, and animal bone fragments. They date to around 10000 to 9700 BC, and are identified as temporary camps associated with hunting of reindeer.
Laser Ablation-Inductively Coupled Plasma-Mass Spectrometric trace element analysis was used to show a clear correlation of several artefacts from Wey Manor Farm to the Salisbury Plain source region and one from Church Lammas to the East Anglian source.
The monograph has been published with the aid of a grant from English Heritage.
SpoilHeap Monograph 5
ISBN No 978-0-955884672
114 pages, 64 illustrations
Price £15 + £3.50 p&p
To order this volume please go to Surrey Heritage Shop - Surrey Archives