There are many ways to get involved in your local area and help to improve your neighbourhood. Your local councillor may also be able to help by providing funding to improve local places.
Community menu of options – things you can do to enhance your local neighbourhood
Volunteer to improve the highway – this could include cutting back vegetation overhanging the road, clearing footways, removing vegetation from fences, and clearing drains, litter and storm debris. For other volunteering opportunities in your local area, visit our volunteering pages.
Bring colour to your local area, support wildlife and help reduce flooding with planters. You'll need to ensure there is still enough access space for people to pass (0.5m) and that it doesn't cause a sight line issue for vehicles. Contact us at highways@surreycc.gov.uk to make a request.
Introduce notice boards and benches.
Apply for festive lights (applications must be made by the end of August) – festive lighting can be attached to street lights at suitable sites. To attach other items such as hanging baskets to street lights, read our guidance and apply for a licence.
Install a Living Wall in your front garden or around a local community building – there are lots of DIY tutorials online that show how you can create these using pallets or guttering. For more large-scale projects, like this one in Bradford on Avon, you may want to look at funding options.
Support your neighbours and local community buildings (for example, your local church) to keep their hedges and vegetation cut back from pathways, so those with buggies and wheelchairs have access. Elderly or vulnerable residents may particularly appreciate the offer of help with this. Or you could set up a group with your neighbours to alternate and spread the load.
Join or start a community tree planting project with your neighbours – these larger projects can provide shade, a nice local place and enhance the habitat for wildlife. Contact your local tree warden or fill out our tree planting form.
Support the national Blue Campaign, which is all about councils and residents working together to find grass verges suitable for rewilding, to benefit the 41% of insect species in decline.
---
Bringing it to life
There are a wide range of community projects that take place across Surrey to improve local neighbourhoods.
The case studies below highlight where communities have led initiatives that you might want to consider in your local area.
Case study 1: Volunteers work together to enhance Banstead village
Banstead Village in Bloom was founded in 2016 when Reigate and Banstead Council approached Banstead Horticultural Society and Banstead Rotary Club to ask if the village would like to enter the nationwide RHS In Bloom competition.
Since then, Banstead Village in Bloom has evolved into a large group of volunteers who work together to enhance the village.
Their current projects include installation of water butts around the village, litter picking and installing raised sleeper beds. Funding is made up from a range of sources.
Case study 2: Friends of Merstham Parks and Greens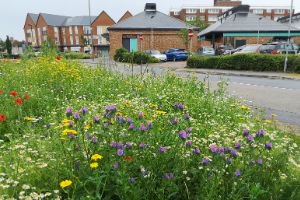 Friends of Merstham Parks and Greens is a community group which improves the public green spaces in Merstham. So far they have planted new native and fruit trees and 1, 000 bulbs.
Some areas of green space have been left to grow in to a long grass meadow, to encourage butterflies and bees in the summer and areas have also been purposefully seeded with wildflower mixes.
They have also added a wildlife Garden with a living willow structure, seating, insect hotels and fruit trees. The group has secured funding from sources like ward councillor budgets.
---
Additional support and funding
If you're seeking funding, your County Councillor may be able to help you via the Your Councillor Community Fund.
Or, if you're thinking of doing something more ambitious in your local area, you might be able to apply for funding via Your Fund Surrey for small and large community projects.
There are also a wide range of funding options available on our funding web page.