Cycling is permitted on most roads (highways), byways and bridleways, as well as dedicated cycle tracks.
Our cycle facilities map shows where improvements for cyclists have been made to our network.
We know that cycling on our network can, in places, be difficult, so we are constantly working to introduce infrastructure that is designed to make cycling easier, safer and more enjoyable. Such infrastructure is referred to as a cycling facility.
Planning your journey
Many search engines, journey planners and mobile apps can help you identify the best route for cycling a journey.
When on the street, signs can help you follow routes recommended for cyclists to prominent destinations.
You may also find it helpful to view the aforementioned cycle facilities map.
Named and signed routes
Some longer-distance cycle routes, town networks and leisure trails have names and distinctive signage, to make them easier to follow.
Avenue Verte
Avenue Verte is a route between London and Paris, which passes through the east of Surrey. Within Surrey, it follows the same route as National Cycle Routes 20 and 21 (see below).
Blackwater Valley Trail
A 7.8 mile leisure trail following the hidden Blackwater River between Camberley, Frimley, Farnborough and Aldershot.
Christmas Pie Trail
This leisure trail runs from the northwest edge of Guildford (at Applegarth Avenue) to the east side of Farnham (at Shepherd and Flock roundabout). The trail is 8.5 miles long and runs along country paths and some quiet lanes. There is a busy road to cross towards the Farnham end. The trail has signs that incorporate a Christmas pudding logo.
Downs Link
The Downs Link is a traffic-free trail linking the North Downs Way (near Guildford), the South Downs Way and the sea at Shoreham-by-Sea. It mostly follows the line of a disused railway and as such makes for easy and safe cycling. The whole length is about 37 miles, but it can be cycled in sections and is particularly well suited to families. There is a signed 2 mile link from Guildford town centre to join the trail near Peasmarsh (following National Cycle Routes 22 and 223).
Information, maps and leaflets are available from West Sussex County Council's Downs Link web page.
The surface is not tarmac, but it is firm and generally well-drained, and there is a continuous programme of maintenance. The trail is suitable for all types of off-road bicycle but can also be ridden quite comfortably (especially the Surrey section) on a touring or hybrid bike. However, note that the northernmost section of the Downs Link from the North Downs Way at St Martha's Hill until you join the old railway line just north of Bramley is, in places, unsurfaced and steep, and is more suitable for people used to mountain biking. For 'family-friendly' access, we recommend you start on the old railway line where it joins the A281 opposite Trunley Heath Road, just south of Shalford.
Frensham Common Cycle Trail
A short, circular cycle trail around Frensham Common.
National Cycle Network
The National Cycle Network is a UK network of signed routes for walking, cycling, wheeling and exploring outdoors. The network is looked after by Sustrans. Six National Cycle Network routes pass through Surrey.
National Cycle Route 4
Route 4 links London with Fishguard in West Wales. In Surrey, this route follows the Thames Valley, running through Staines, Weybridge, Walton-on-Thames, Chertsey and Molesey. It connects with National Cycle Route 223 in Chertsey.
National Cycle Route 20
Route 20 begins in Wandsworth in London and ends where it meets National Cycle Route 21 in Surrey, just east of Merstham. It passes through Chaldon.
National Cycle Route 21
Route 21 connects Greenwich in London to Eastbourne on the south coast. In Surrey, it passes through Warlingham, Woldingham, Redhill, Earlswood, Salfords and Horley.
National Cycle Route 22
Route 22 is being developed to connect London with Portsmouth, the Isle of Wight and the New Forest, passing through Surrey on the way. In Surrey, the route takes in Farnham, Puttenham, Compton, Guildford, Shalford, Bramley, Gomshall, Westcott, Dorking, Headley and Banstead. It links to National Cycle Route 20 to the east of Banstead, and shares the route between Guildford and Bramley with National Cycle Route 223.
National Cycle Route 221
Route 221 follows the Basingstoke Canal between Pirbright and New Haw, through Woking town centre, where it links with National Cycle Route 223. Much of this route is also referred to on local signage as the Saturn Trail (part of the Planet Network in Woking).
Route 223 links the River Thames at Chertsey with the south coast at Shoreham-by-Sea. In Surrey, the route passes through Chertsey, Ottershaw, Woking, Westfield, Sutton Green, Guildford, Shalford, Bramley and Cranleigh. Through Woking, route 223 takes the same route as the Mars route, and south of Shalford it takes the same route as the Downs Link along a disused railway line. Route 223 also shares its route between Guildford and Bramley with National Cycle Route 22, and links to National Cycle Route 4 in Chertsey and National Cycle Route 221 in Woking.
Planet Network in Woking
Around Woking Borough, a network of cycle routes known as the Planet Network has been introduced. Individual routes are named after planets, and connections into these routes are named after moons.
The network is well-signed and easy to follow on the street.
The routes are:
Mercury - West Byfleet to Byfleet, along Parvis Road
Venus - Byfleet to Pyrford Road, along Rectory Lane, Murray's Lane, the River Wey and Dodd's Lane
Earth - Woking Park to Prey Heath Road, along A247 Wych Hill Lane and A320 Egley Road
Mars - Ottershaw to Jacobs Well, via A320 Chertsey Road, Woking town centre, Woking Park, Westfield and Sutton Green, largely duplicating National Cycle Route 223. Phobos is a connection from Woking College into the Mars route, along Howards Road and Elmbridge Lane. Deimos is a local route in Maybury along Balmoral Drive and Princess Road.
Jupiter - Woking town centre to Horsell Park, with an aspiration for this to eventually reach Chobham (route to be determined). Ganymede is a local route from Goldsworth Park to Horsell along Bullbeggars Lane and Rosehill Avenue, with an aspiration for this to ultimately connect with Jupiter route
Saturn - Brookwood to New Haw via Woking town centre, along the Basingstoke Canal towpath, largely duplicating National Cycle Route 221. Rhea is a connecting local route in Knaphill along Percheron Drive and Redding Way. Hyperion is a connecting local route along Hermitage Road. Titan is a connecting local route along Hermitage Woods Crescent, Gorsewood Road, Amis Road and Raglan Road. Dione is a connecting local route in Goldsworth Park, along off-road paths linking Langman's Bridge on the canal with Goldsworth Park Lake. Calypso is a connecting local route along Chobham Road and Kettlewell Hill. Mimas is a connecting local route in Sheerwater.
Neptune - Woking town centre towards Goldsworth Park and Knaphill, along Horsell Moor, Arthur's Bridge Road, Lockfield Drive, Marston Road, Lidstone Close, Quintrell Close, Sythwood, Tresillian Way, Goldsworth Park Lake, Wishbone Way, Kirkland Avenue and Creston Avenue. Triton is a connecting local route from Goldsworth Road Morrisons to Goldsworth Park, along Goldsworth Road, Mabel Street, Arthurs Bridge, Lockfield Drive and the off-road path from Harelands roundabout into Goldsworth Park.
Pluto - Woking town centre to St John's, Knaphill and Bisley, along Goldsworth Road, Kingsway, Royal Oak Road, The Triangle, St Johns Road, Barrack Path, Inkerman Way, Victoria Road, Highclere Road, High Street (Knaphill) and Limecroft Road
Ceres - Woking to Sheerwater and West Byfleet, along Maybury Road / Walton Road, Arnold Road / Eve Road, Albert Drive, Dartmouth Avenue, Devonshire Avenue and Woodlands Avenue. Oberon is a connecting local route along Monument Hill. Titania is a local route along Woodham Lane. Arial is a connecting route from West Byfleet to New Haw, along Station Road, Camphill Road and Scotland Bridge Road. Miranda is a local route along Old Woking Road.
The Planet Network has proved popular and well-used since its introduction, and we are now looking to invest further in existing routes and to add new routes as part of our plans to improve walking and cycling.
Round the Borough
Round the Borough is a circular tour of the Borough of Epsom & Ewell, taking in Epsom Downs, Nonsuch Park, Epsom Common, the Hogsmill River and Horton Country Park.
Surrey Cycleway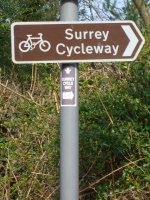 The Surrey Cycleway is a 94 mile circular tour around the county. The route typically uses quiet country roads and lanes and is well signposted. The route is marked by distinctive brown and white signs. It is suitable for people who have some experience of cycling on roads.
Apart from the main loop there are a number of 'links' which enable you to do shorter circuits. There are also links to major towns in Surrey (such as Epsom, Woking and Farnham). These links are identified by signs with the words 'Surrey Cycleway Link' on them. While the total distance is 94 miles, there are many more leisurely short routes. The shortest and flattest route is between the Outwood link and the Leigh link this is only 9 miles long.
Yew Tree Way
The Yew Tree Way is a circular cycle tour in south east Surrey around Lingfield and Hurst Green. It is 15 miles long and follows quiet country lanes. Accessed via railway stations at Hurst Green and Lingfield, the route can be shortened by using the rail link between the two stations. The route is on-road throughout so some experience of cycling on roads is necessary. Wooden way marker posts are provided for cyclists following the route in an anti-clockwise direction only.
How is the network used?
We undertake surveys and monitoring across our network to understand how it is used. At some locations, automatic cycle counter devices have been installed to continuously remotely monitor how many cycles use a road or path.
All survey locations can be viewed using the Surrey Interactive Map.
---
Files available to download
Surrey Cycleway guide (PDF)


Guide to the Surrey Cycleway and other cycle routes in the Surrey countryside including the Downslink, the Olympic Road Race route, Christmaspie trail, Yew Tree Way and National Cycle Network routes. Published 2012.