About the centre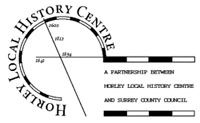 Horley Local History Centre is based in Horley Library, and you can use the local history centre resources at any time that the library is open.
Even better, visit us at the following times each week when volunteers are available to help you use the resources and equipment.
Tuesday 2pm until 4pm
Saturday 10am to 12pm
Contact the Library Service or use our online libraries local or family history enquiry form.
The local history centre exists to encourage interest in local and family history in Horley, Burstow, Charlwood, Horne, Salfords and Smallfield.
We offer an extensive range of resources including census records, parish registers, large scale maps and directories.
We provide a microfilm and microfiche reader-printer and there is access to the internet on the library computer terminals.
If we can't answer your question, we can refer you to local experts or Surrey History Centre. When the centre is not staffed you can leave a written enquiry.
Horley Local History Centre is a partnership between Surrey Libraries, Surrey History Centre and Horley Local History Society.