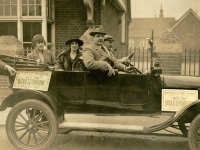 Electoral registers record the names of eligible people who have registered to vote in Parliamentary and Local Government elections. Registers were introduced in 1832 and have been produced annually excepting the war years 1916-1917 and 1940-1944.
Surrey electoral registers 1832-1962 are available to search and view online on the Ancestry website.
Surrey History Centre holds electoral registers for the county of Surrey from 1832 to the present. However, there are some anomalies since the changing boundaries of the county and the establishment of separate boroughs have made tracing some registers more complicated, and in some cases (Croydon for example) we only hold registers for certain periods. Registers for the Spelthorne area are held from 1965. If in any doubt, please contact Surrey History Centre before you visit to make sure that we hold the registers you are looking for.
Early electoral registers at Surrey History Centre for 1832-1889 include the whole of the ancient administrative county of Surrey.
The Land Tax Assessment books for all the parishes in the ancient county of Surrey for the years 1780-1832 are also available on microfilm, and are available to search and view online on ancestry.co.uk.
Please see the PDF files below for more information about electoral registration in Surrey.
Image: Photograph of Quartermaine family canvassing for votes for Henry Quartermaine, later mayor of Woking, c.1920s (SHC ref PC/160/ALB1/148)
---
Files available to download