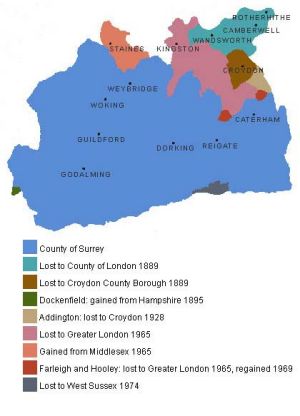 Since 1889 there have been some major changes in the administrative boundaries of the county of Surrey. This affects the records held at Surrey History Centre.
Until 1889 the ancient county of Surrey extended as far north as the Thames and as far east as Rotherhithe.
In 1889 the County of London was created, and the areas of the modern London boroughs of Lambeth, Southwark and Wandsworth were removed from Surrey. The records of these areas are held either by the London Metropolitan Archives or by the local boroughs, but the Surrey History Centre holds pre-1889 Quarter Sessions records for this area.
Also in 1889, Croydon was made into a county borough exempt from county administration. Croydon became a London borough in 1965, and most Croydon records are held by the Croydon Local Studies Library and Archives.
In 1965 more of Surrey was lost to London, with the creation of the London boroughs of Kingston, Merton, Richmond, Sutton and an expanded Croydon. For these areas, records are held by the local boroughs (either in their archives or local studies libraries) or the Surrey History Centre. The London Metropolitan Archives may also have some material.
In 1965 Staines and Sunbury were transferred from Middlesex to Surrey. In 1974 these areas became the new district of Spelthorne. Most records relating to the former Middlesex area are held by the London Metropolitan Archives.
The above map depicts these major changes, however it should be noted that there have also been several minor changes to the Surrey boundary over the years and these are not shown.
Learn more about the changing boundaries of Surrey.
If you are intending to visit Surrey History Centre with an enquiry relating to one of the areas which came into Surrey or has left it, please contact us beforehand to check whether we can help.