We can use controlled parking zones (CPZs) if we need to control parking in all the roads over a large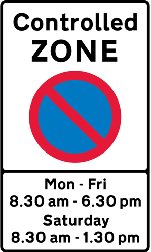 area.
There are large signs at the entry points to the zone to show when it is operating, like the example shown on the right.
Parking within the zone is controlled by yellow lines and parking bays, which may or may not include residents' permit parking bays.
Each parking bay within a CPZ is signed individually.
Unless signed otherwise, the single yellow lines apply at the time stated on the zone entry signs, which helps to reduce signs and 'street clutter'.
CPZs should not be confused with residents' permit parking. It is possible to have permit parking both inside or outside of a CPZ.
Request a change
You can submit requests for new parking controls or restrictions, or changes to existing ones, via the parking review process page.