About Forces Connect South East
Forces Connect South East (FCSE) is a cross-border partnership created to support the aims of the Armed Forces Covenant and promote a greater understanding and awareness of the issues affecting the Armed Forces Community within public services across the South East. It comprises:
FCSE was awarded £321,300 of Ministry of Defence Covenant Funding in Spring, 2017 to deliver a project enabling fair and consistent advice and access to public services for the Armed Forces Community across the South East and to ensure they face no disadvantage compared to any other citizen. This is being achieved through the training of frontline staff across the region to meet the needs of armed forces personnel and their families.
Four bespoke training packages have been produced to embed the Covenant message across all levels of staff, emphasising the importance of asking 'have you (or your partner) served?' The courses have been developed in collaboration with the Ministry of Defence (MoD) and are being made available for other UK Authorities to use under FCSE Legacy.
Other strands of the project include developing armed forces referral pathways and a mobile application (app) to ensure quick and easy access to the services and support available to the forces community and establishing a FCSE Employee Mentoring Programme to better assist service leavers who are transitioning into civilian employment and developing a School Admissions Video ( a short version of the video is also available) which explains the processes that forces families are required to go through when applying for a school place.
The programme is nearing completion with training targets exceeded. To access our free training resources visit our Toolkit. For more information about the programme, email Amanda Barnes, Programme Officer: fcse@surreycc.gov.uk.
FCSE welcomes Chief of Defence People, Lt Gen Nugee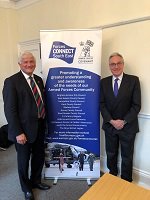 The FCSE Board were delighted to welcome Chief of Defence People (CDP), Lt Gen Richard Nugee, to its meeting in September 2018. FCSE Chairman, Councillor Peter Martin briefed the General on our achievements so far and our plans for the future.
Over 2,000 people in the South East have received Armed Forces awareness training and we are now promoting these training packages for other UK authorities to use for free.
Our signposting mobile app is due to launch in January 2019 and is being built with national expansion in mind which will allow other authorities to house their own referral information. Our CPD accredited Employee Mentoring e-learning will soon be launched and made available for free to any organisation wishing to improve their on-boarding process for service leavers and veterans entering their business.