Page contents
Pre-planning consultation for the new Staines hub
Have your say from Tuesday 12 September 2023
We are proposing plans for investing in the relocation of Staines Library to create a state-of-the-art modern library and Community Hub.
If you were unable to attend the in person consultation on Tuesday 12 September 2023 at Staines Library you can still input your views.
From Tuesday 12 September until Tuesday 26 September at 5pm, you can input your views through our consultation page: Have Your Say! A new modern library and community hub building for Staines.
As part of the plans, the library will be relocated to the former Decathlon store in the Elmsleigh shopping centre and is set to become a new home for Citizens Advice, Spelthorne Museum and Voluntary Support North Surrey. There will also be other lettable space.
For a more detailed overview of the plans please see the section below: A new community hub for Staines-upon-Thames.
The consultation is a chance for everyone to have their say so that Staines Library can continue to best meet the needs of the local community in years to come.
The new Hub will be an asset for the whole community, enhanced with a range of high-tech equipment to support a new programme of events and activities, enhancing opportunities for residents and community groups. The accessible new space offers the flexibility to host events for up to 100 people.
This work is part of the Library Transformation programme which began in 2019, when the new Libraries & Cultural Services Strategy was signed off by Surrey County Council's Cabinet.
Feedback on the interior of the new library will be considered through a co-design process later in the project.
A new community hub for Staines-upon-Thames
We want to share with you our plans for a state-of-the-art, flagship modern library and community hub building in Staines-upon-Thames, which are being developed in partnership with Spelthorne Borough Council.
Residents can give their feedback through our dedicated consultation page: Have Your Say! A new modern library and community hub building for Staines.
The site
The current library is no longer suitable due to the condition and location of the building.
Surrey County Council recognises the importance of library services and is committed, through the Library and Cultural Services Strategy, 2019, to retaining all 52 libraries in the county within their current towns and villages.
This proposal is to relocate the library, with complementary community services, to a modern and central location.
The ambition is to deliver modern and progressive libraries that are bright, welcoming, flexible spaces creating vibrant hubs for each local community.
Picture showing the front of the current Staines Library: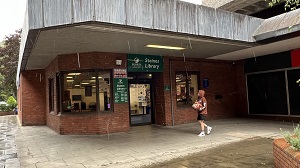 Vision
Surrey County Council and Spelthorne Borough Council have been working in partnership, exploring how best to provide a new hub for the community
The Staines Community Hub project is part of Surrey County Council's infrastructure improvements programme, which is intended to support sustainable growth in Staines
Roads, schools, community and leisure facilities, healthcare and green space are essential for well-functioning, well-connected places and healthy communities. They are vital if we are to retain existing businesses and attract new ones
The creation of Staines Hub, with the library at its heart, will ensure that we can continue to provide an excellent service to local people
The aim is to relocate the library to the Elmsleigh Centre, taking over the vacant Decathlon unit, and combining with other community services
This work will allow us to provide a vibrant, modern community hub offering a range of services, events and programmes of activities for residents from one convenient location
In order to make the existing unit suitable, we will need to submit a planning application for a change of use and undertake some refurbishment of the building, including:

Internal reconfiguration
New entrance with the addition of a canopied area

Refurbishing the building will also allow us to improve the energy efficiency and bring it up to modern standards, as part of our climate change strategy and targets.
An artist impression of how the new Staines Hub may look: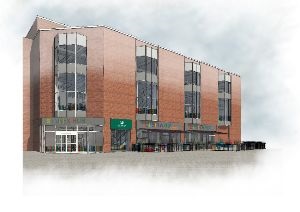 Proposals
The proposed relocation of the library, from Friends Walk to the former Decathlon retail unit in the
Elmsleigh Centre, supports part of the wider ambitions and economic growth of the town centre masterplan.
The new facility will provide an improved space for the library provision, and the community hub will operate as a gateway to the town and a central point for information, support and advice. As well as the library service, it will incorporate partners such as Citizens Advice, Voluntary Support North Surrey, the Spelthorne Museum and provide other lettable spaces.
Indicative floor plans
Indicative floor plan of the ground floor:
The indicative ground floor plan is a guide to how the ground floor may be laid out. At the front near the entrance on the left are the library services, behind this is a flexible area and community space. Next to this at the back is the Museum. Next to the Museum is the Children's area and then on the far right at the back toilets. Also on the right are staff areas such as the store and workroom. Just in front on this on the right is the self service area for issuing and returning items. There is also an area allocated for outdoor seating.
Indicative floor plan of first floor: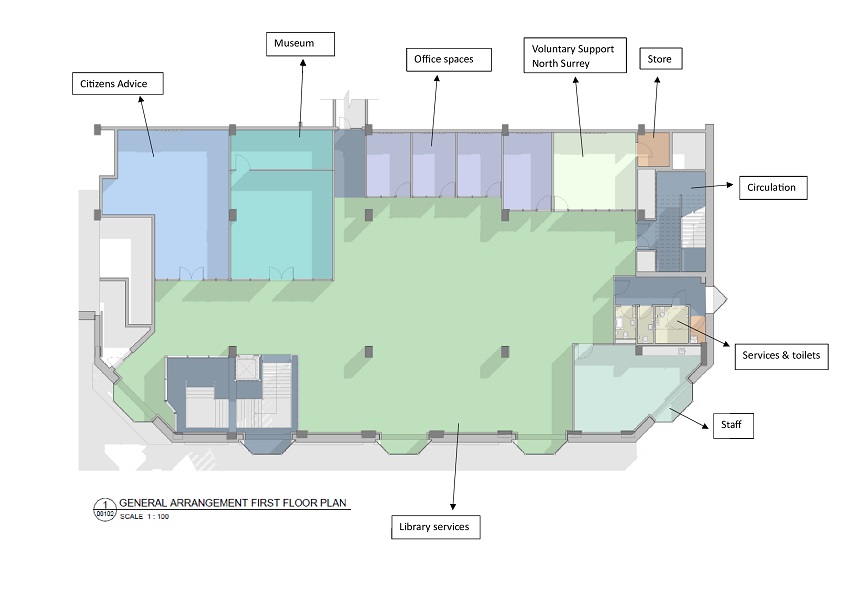 The indicative first floor floor plan is a guide to how the first floor may be laid out. Library services at the front and Museum space at the back. Areas for Citizens advice and Voluntary Support North Surrey and and office space.
Indicative artist impression of new internal hub layout: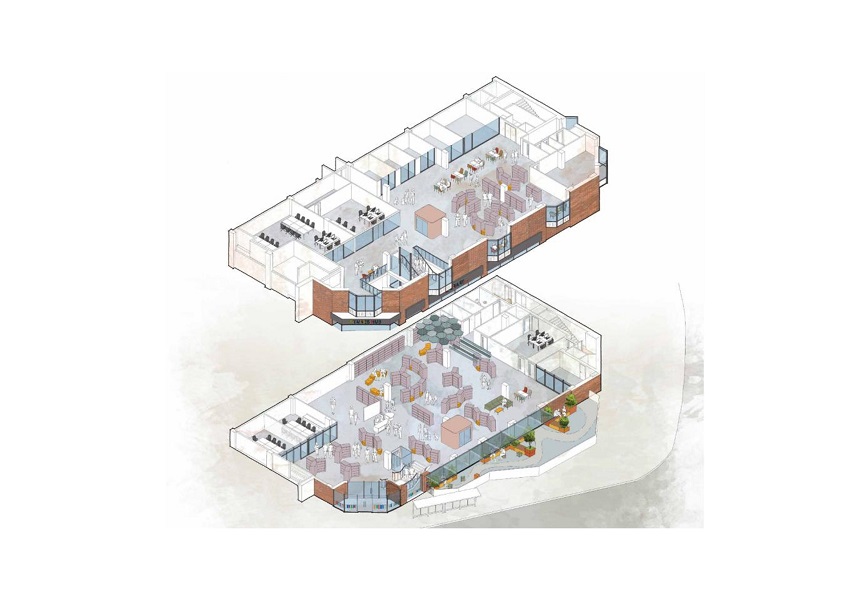 The library layout will be finalised through a process of co-design and engagement with residents and local community groups later in the year.
The design of the library and hub will deliver
A modern, open-plan space that is inclusive, accessible and comfortable
A flexible, open library area to accommodate a wide range of events, services, books and resources
Meeting rooms and exhibition space available to hire. Within the hub, there will be a range of new spaces of different sizes, providing greater capacity for meetings and services, and even larger spaces available for exhibitions and performances.
Modern technology and work spaces
A light and inviting environment, with indoor and outdoor areas for visitors
Accessible public toilets
The design will be dyslexia, dementia and autism friendly to ensure the hub is accessible for all.
A dynamic place for the whole community to visit, spend time and enjoy
Children's Library area, providing dedicated functions and events for young children
Extended library opening hours using controlled access technology
A new community hub with multiple public services such as Citizens Advice and Voluntary Support North Surrey
Staines Community Hub will allow us to bring together a variety of public services in one building that is not possible on the current library site.
As well as the key services, the hub will provide multi-use space for use by third party and community groups.
The hub will provide universal access for all residents through its programme of cultural activities with a focus on supporting local people with health, wellbeing, employment and digital skills.
Spelthorne Museum will be carefully integrated into the layout of the library to create an enhanced visitor experience.
Picture 1: showing a library area with desks and chairs including computers and other desks for study and laptops.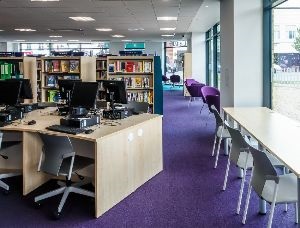 Picture 2: showing a library children's area with colourful chairs and tables.
Sustainability
We are committed to delivering a sustainable development and becoming a carbon net zero council by 2030.
Here are some of the steps we're taking to make the proposed new Staines Hub greener and more sustainable:
Taking sustainability into account from the very early design stages to minimise heat loss
Improved insulation to the external walls to minimise energy loss
Reducing water consumption through careful specification of water fittings
New finishes to create a healthy working environment for the staff and visitors
Preference will be given to materials and finishes that promote the Council's net zero aims and support sustainability
New entrance lobby to minimise heat loss when the doors are open
Using air source heat pumps to supply heating and hot water
Feedback
This consultation closes at 5pm on 26 September.
Please give your feedback on the proposals through our consultation page: Have Your Say! A new modern library and community hub building for Staines.
We will review the feedback and aim to submit our planning application in October 2023.
There will also be a co-design workshops in the autumn to get community input into the library spaces and layout within the new hub. Please watch out for more information on this coming soon.
Next steps
September 2023: Community engagement. Feedback deadline, 5pm on Tuesday 26 September.
Late Autumn 2023:

Review feedback
Finalise plans and submit the Regulation 3 planning application
Hold co-design workshops to get community input into the library spaces and layout within the new hub

Winter 2023: Statutory planning consultation on proposals by Surrey County Council
Early 2024: Determination of the Regulation 3 planning application by Surrey County Council
Summer 2024: Work on the new site will start
Early 2025: Work on the new hub is expected to complete