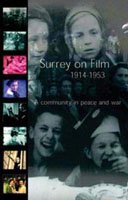 This fascinating compilation film, jointly produced by Screen Archive South East (SASE) and Surrey History Centre, traces community life in the county from peacetime through the trauma of two world wars and closes with the coronation celebrations of Queen Elizabeth II in 1953.
The DVD can be purchased from the Surrey Heritage online shop or from Surrey History Centre, 130 Goldsworth Road, Woking, Surrey GU21 6ND.
DVDs are £5 each plus £3.50 postage and packing in the UK; £5 Europe; £7 rest of world. Please make cheques payable to "Surrey County Council". Please note that for overseas customers we can only accept Sterling cheques drawn on a national bank in the United Kingdom.
Among the films included on the video are: a parade in Godalming, 1913 (one of the earliest surviving films of a Surrey town); Women war workers in Shackleford during the First World War; Reigate Borough Carnival, 1926; Empire Day at the Southern Railway Servant's Orphanage, Woking, 1933; George V Silver Jubilee celebrations in Walton on Thames and Hersham, 1935; The Emberton Family of Chobham, 1936 and 1938; Walton's March for Victory, 1941; The Surrey Land Club, c.1942; The Gowlland Family of Croydon, 1944-1945; Leatherhead and District Civil Defence, c.1946; and Horley Cricket Club Coronation Fete, 1953.
Images reproduced by kind permission of Screen Archive South East.