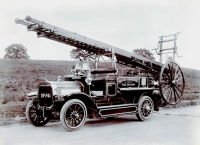 The Surrey History Centre catalogues of the Dennis drawings and photographs collections provide documentation of many of the vehicles made by the company since it was first started by John and Raymond Dennis in Guildford in 1895.
The company has produced many types of vehicles during its history. Cars were produced from 1901 to c.1913, buses from 1903, vans and lorries from 1904, fire engines from 1908 (the first one being supplied to the city of Bradford), ambulances from 1909, cesspool and gully emptiers and refuse vehicles from 1921, lawn mowers and trailer fire pumps from 1922. New models in all these fields appeared frequently and there were many variants with for example different wheelbase lengths and engines. During both world wars production was devoted to the war effort, including 7000 subsidy vehicles supplied to the War Office in 1914-1918, and lorries, agricultural vehicles and Churchill tanks in World War II.
A pattern of experiments and development went on continually. A worm-driven rear axle was patented in 1904, ensuring a long-lasting and smooth transmission. New models appeared almost every year, including for example the E type low line bus chassis (1925); the 12 ton 6 cylinder chassis for big buses (1929); Lancet bus chassis (1931); diesel engine (1931); F1 and F3 fire engines (1946); Paxit Major refuse collector (1952); forward entrance Loline double deck bus (1958); dust-less refuse collecting vehicle (1959); F26 fire engine and the Delta chassis (1961); F117 'Snorkel' fire engine (1963); R series fire engines (1976); Dart bus (1989) and Rapier fire engine (1991).
There are nearly 12000 drawings comprising general arrangement drawings of different vehicle types and drawings of parts. Many of the vehicles were photographed as they came off the production line, often painted in the livery of the company which had ordered them. The collection comprises nearly 14000 photographs, a large number of which were originally photographed onto glass plates, from which prints have been made. Other photographs survive as prints, stored in a series of albums.
The PDF catalogue of the drawings is sorted by product type (for example fire engine) and then by vehicle or engine type (for example F2 fire engine). The PDF catalogue of the photographs is sorted by customer name (for example Aberdeen City Fire Brigade) and then by type of vehicle (for example fire engine).
The following abbreviations have been used in the catalogues:
F/C - Forward control
N/C - Normal control
GB - Gearbox
WB - Wheelbase
HP - Horse power
WPO - Works Production Order
Abbreviations used as part of a Dennis plan number:
AR - Arrangement
SK - Sketch
B - Body
V - sometimes used for a small part
The drawings and photographs can also be searched on our online catalogue.
Image: Dennis fire engine for Reading Corporation, c.1910. SHC ref 1463/PHTALB/1/1 f83 191
---
Files available to download