Our thanks to all those who made the Surrey Armed Forces Covenant Conference 2019 such a great success.
On Wednesday 6 February 2019 the largest number of attendees ever came together at ATC Pirbright to celebrate what has been achieved over the past year, and to discuss future challenges.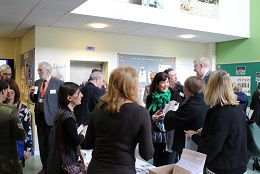 Inspiring presentations and discussions took place during the morning, and we are pleased to be able to share those presentations below. These were followed by smaller group workshops focusing on four specific topics, and we will share the outcomes of these as soon as possible.
A new approach this year saw a specific focus in the afternoon on service children in Surrey. Contributions from a range of local schools, those working with schools, service children and their families were really well received generating constructive conversations about future ways of working.
The undoubted stars of the show, however, were the children themselves who spoke with amazing and moving clarity both on film and in person. They were a credit to their families and schools and brought home to everyone just why they were there.
Don't forget to follow our Twitter feed @SurreyMilitary for more news about what we are up to.