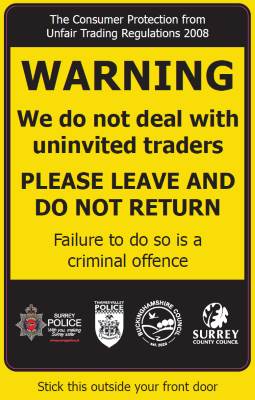 Are you fed up with receiving visits to your home from cold calling traders?
Are you concerned about rogue traders calling on your elderly or vulnerable neighbours, seeking work?
If so, say "no" to cold calling doorstep traders with a Trading Standards door sticker.
Our sticker initiative is designed to empower residents, giving them the confidence to deal with cold calling traders. We expect all traders to respect your wishes but if they don't, they may be liable to prosecution for ignoring your request to leave and not return.
How do you get a sticker?
Sticker packs can be collected from your local district or borough council, police station or library. We also hope to make them available through the Neighbourhood Watch network. If you have any trouble getting a sticker pack, please contact us via email: trading.standards@surreycc.gov.uk
What should you do if your sticker is ignored?
Unfortunately, not all cold calling traders will respect your wishes and some will ignore your sticker. If this happens we would encourage you to use the cold calling template letter to complain and ask the business not to visit you again in the future.
Also send a copy of the letter to us via email to: trading.standards@surreycc.gov.uk. This will enable us to monitor any traders who repeatedly ignore stickers.
If any business continues to call at your home after you have sent this letter, please let us know by calling Citizens Advice consumer service on 0808 223 1133.