What is 'Trading Standards Approved'?
When a trader scheme offers Trading Standards Approval, it means the scheme is either:
being operated directly by one or more Trading Standards Services, or
working closely with one or more Trading Standards teams to ensure that the scheme's vetting criteria and operation meet minimum standards set by Trading Standards.
Trading Standards will have an ongoing involvement in the operation of the scheme to input into the vetting process and ensure it remains robust with members operating in a legal, honest and fair way. Depending on the specific arrangements, Trading Standards may/may not make the decisions relating to membership status and the operation of these schemes. (It may remain with a third party scheme operator - see limitations below.)
---
uktsa.com
(previously known as traders4u.co.uk)
In Buckinghamshire and Surrey, we recognise many local businesses and residents value the independent Trading Standards endorsement.
We are delighted to provide our local "Trading Standards Approved" scheme uktsa.com. This scheme is operated as a partnership between Buckinghamshire and Surrey Trading Standards and United Knowledge Ltd. The website may also list other trading standards approved schemes who meet the minimum criteria and opt in for example Worcestershire.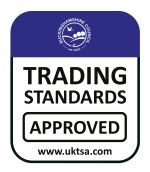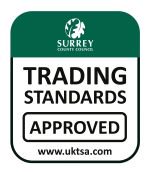 Search for a uktsa.com approved trader
As a true partnership, rather than outsourcing, we are able to combine the techie skills of United Knowledge Ltd with our knowledge and experience of consumer protection to enable you to search for businesses you can trust.
Uktsa.com is an exciting venture and we want the facilities available to you through this platform to grow and develop over time.
How to become an Approved Trader
Customers value the reassurance provided by Trading Standards Approved and, to become an approved trader with any scheme and display its Trading Standards Approved mark, you must meet that scheme's membership criteria and pass its rigorous background checks. Each membership is subject to annual renewal.
To find out more information and join our local Trading Standards Approved scheme, take a look at our website uktsa.com
Benefits for traders
Directory listing on uktsa.com
Use the trading standards approved mark to show your business is Trading Standards Approved
Great value for money
Independent endorsement from your local Trading Standards
Reassure your customers that you are committed to good customer service
Stand out from your competitors - only businesses that pass our vetting can join
Access to advice direct from Trading Standards
Each of the other schemes is different in its offer to businesses and may provide a different range of services inclusive in the membership fee. It is worth comparing these to ensure they match your business objectives. They will all provide the benefit of the sought after 'Trading Standards Approved' status which offers consumers the reassurance they need when looking for local tradespeople.
Limitations of the schemes
If you are looking for an Approved trader, do check the relevant scheme website for the business's current membership status and other customers' feedback. Buckinghamshire and Surrey Trading Standards only has direct control of individual business memberships for the uktsa.com scheme. The approval of a business does not mean that Trading Standards and/or Buckinghamshire or Surrey County Councils:
can guarantee the financial stability of the business
has individually checked the quality of any works, goods or services provided
can give any guarantee or warranty as to the value for money of works, goods or services compared with a competitor, nor that they will be satisfactory or fit for the purpose.
Consumers must therefore rely on their own assessment of suitability or any specific offer or assurance made by that scheme operator when choosing a supplier or service provider. See our advice on how to choose a trader.
Other schemes
For other schemes using the Trading Standards approval in our local area, we only work with the scheme to ensure it meets minimum standards. We do not approve individual businesses, see information below. All approvals and memberships are issued by the scheme operators and each of these will offer support through their complaint handling process.
Each scheme's website holds details of what is required and how to apply. Follow the links to find out more.
TrustMark - Actively works with Buckinghamshire and Surrey Trading Standards and offers a Trading Standards Approved level of membership. Please see the TrustMark website for more information, email info@trustmark.org.uk or phone 0333 555 1234.
Buy With Confidence - a separate scheme, operated by a group of Trading Standards authorities (not including Buckinghamshire and Surrey), continues to operate in both counties under the branding of the Buy with Confidence scheme.