What are Skills Bootcamps?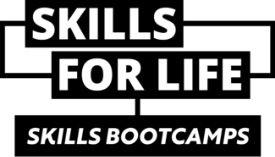 Skills Bootcamps are free, flexible online courses of up to 16 weeks for Surrey residents giving people the opportunity to build up sector-specific skills and fast-track career progression.
For businesses, it's a great low-cost way to upskill your employees with knowledge to help your organisation evolve and grow in the future.
We're working with Hampshire County Council to provide Skills Bootcamps to Surrey residents until the end of March 2024.
How can you get involved?
Skills Bootcamps have been developed as part of the Government's Lifetime Skills Guarantee and Plan for Jobs, helping everyone gain skills for life and providing the perfect first step into a new career.
Residents
Check your eligibility for the Skills Bootcamp.
If you know which course you want to sign up for you can apply online. Bootcamps are a great way to gain new skills to progress your career.
If you are unsure which course to do and are looking for further free and impartial advice, contact the National Careers Service.
Businesses
Businesses can use this list of Skills Bootcamps training providers to find local colleges and providers to work with or visit the Employment and Skills Hub (Hampshire County Council) for further information.
Benefits for residents and businesses
For residents
Allows you to retrain or reskill into new career roles in your local community.
Guarantee of a job interview with an employer upon completion of the bootcamp training course.
Free and flexible online and in classroom training available.
For businesses
Access newly trained talent to address your skills gaps.
Potential to shape the design or contribute to delivery of bootcamps to ensure they meet your specific needs.
Free to use Skills Bootcamps to recruit new employees, and up to 90% of the costs paid by government for upskilling existing staff.
Which sectors and subjects are available for Skills Bootcamps?
Skills Bootcamps are currently being offered in the current sectors, all of which are crucial to supporting the economy of Surrey to grow sustainably.
Cyber
Digital marketing
Construction: retrofit and heat pumps
Electric vehicles
Eligibility
To take part in the Skills Bootcamp, you must:
Be aged 19 or over
Have the right to work in the UK
Live in England
Meet residency requirements (the training provider can check this)
If you claim Universal Credit, you can apply and continue to claim benefits.
Some Skills Bootcamps have additional eligibility criteria. Contact the training provider to check if you are eligible and apply for the course.