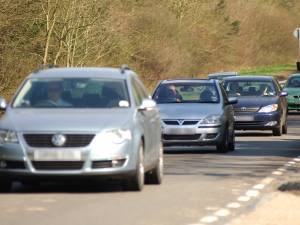 Faster vehicle speeds increase the risk of collisions and makes the consequences far worse. Speeding vehicles also deter more walking and cycling and can make places less pleasant to live in due to increased noise and air pollution.
More local authorities, including us (Surrey County Council), are adopting the best practice "Safe Systems" approach to improving road safety.
This approach asserts the principle that road users will make mistakes, yet at the same time people have a right to safe and healthy mobility. Therefore, it is the responsibility of organisations to work together collaboratively to make the entire road system as safe as possible for all road users. A key priority of this approach is safe vehicle speeds.
---
Page contents
---
How do we tackle speeding vehicles in Surrey?
We work closely with Surrey Police to develop local speed management plans for each of Surrey's eleven Districts or Boroughs.
This means that whenever there are concerns about speeding at a location, we will go and measure the speeds using a device called a speed detection radar. This is a box that is mounted on street furniture such as a lamp column, without most people knowing it is there or what it is for.
We deploy these devices to collect anonymous data on vehicle speeds for a week and then this information is combined with data on road collisions resulting in injury recorded by the police to ascertain the extent and nature of the speeding and road safety problem at each site. Information on the locations of collisions resulting in injury can be viewed via CrashMap.
Our road safety specialists meet periodically with Surrey Police's specialists to discuss and agree which sites need the most attention, and what the most appropriate intervention will be. More information on the types of intervention that we use are described below.
---
Traffic calming
Traffic calming features are measures designed to slow drivers down by physically restricting vehicles and making it uncomfortable for drivers and passengers if their vehicle is driven too fast.
Vertical traffic calming can consist of speed cushions, humps and raised road tables. Horizontal traffic calming can consist of road narrowing, priority give way pinch points and chicanes.
Traffic calming is very effective at reducing speeds in 30 miles per hour or 20 miles per hour speed limit areas but cannot be used on higher speed limit roads. Vertical traffic calming is not usually considered for more strategic routes with larger volumes of traffic and heavy goods vehicles where the road is close to residential properties because of the possibility of noise and vibration.
---
Permanent safety camera enforcement
Permanent safety cameras are considered at locations where there has been a long-term problem with drivers speeding that has not been possible to solve through other means, and where traffic calming measures are infeasible. There are several types of safety camera:
Average speed cameras are used to encourage compliance with the speed limit over a longer length of road. The cameras are deployed to measure the time at which a vehicle enters and exits a zone to work out the average speed. They are usually deployed at locations where there are few entry and exit points and no stop or give way lines within the zone.
Spot speed cameras are used to encourage compliance with the speed limit over a shorter stretch of road in the immediate vicinity of the camera.
Combined speed and red-light violation cameras are deployed at junctions where both speeding drivers and drivers ignoring red traffic signals are a problem.
Our policy on the use of speed cameras (agreed in partnership with Surrey Police) was approved by the Cabinet in September 2021, please see Cabinet Report Safety Camera Policy (PDF).
---
Police enforcement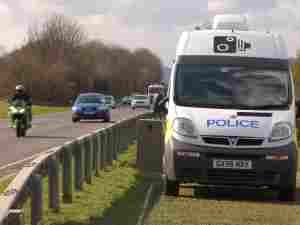 Safety camera vans are used to deter speeding at sites that require regular enforcement, and where there is room at the side of the road to position the vehicle. Where there isn't room for a camera van, the police are able to provide enforcement using hand-held laser equipment.
Enforcement of speeding is also regularly undertaken via patrol cars, along with enforcement other driving offences such as driving while under the influence of drink or drugs, careless or inconsiderate driving, dangerous driving, driving while using a mobile phone, and document offences. Enforcement is now also being undertaken via police officer using pedal cycles too.
---
Vehicle activated signs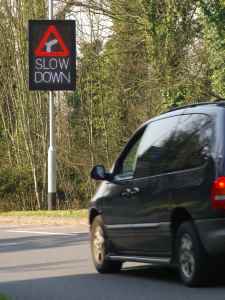 Vehicle Activated Signs (VAS) are a useful and cost-effective road safety intervention. They light up to warn drivers of hazards or to remind them of the speed limit if they are approaching too fast.
As of 2023, there are approximately 650 VAS in Surrey including on the approach to almost all our speed cameras. Monitoring shows VAS helps drivers keep to the speed limit and this effect is on-going.
---
Community Speed Watch
Community Speed Watch is a scheme managed by Surrey Police to allow volunteers to monitor the speed of passing vehicles using a hand-held speed detection device. The volunteers record the details of speeding vehicles, and then the police will issue a letter to the vehicle owner, advising them of the dangers of speeding, and reminding them of the law. Further action will be undertaken by the police for repeat offenders. Training and equipment are provided by the police who will also undertake an assessment of suitable locations for the volunteers to operate from.