What is the Woking Town LCWIP?
The Woking Town Local Cycling and Walking Infrastructure Plan (LCWIP) is a ten-year investment plan for walking and cycling in Woking. It identifies where we want to prioritise investment and sets out some initial recommendations for improving walking and cycling in the town.
LCWIPs are the best practice approach nationally for planning walking and cycling improvements and our process follows Department for Transport guidance. To find out more about LCWIPs, including what they are and the process that we have followed to develop LCWIPs for the county, please see our plans to improve walking and cycling page.
The Woking Town LCWIP aims to create a wider walking and cycling network for the borough and focusses on the strategic planning of this. Local neighbourhood and street level interventions are not included within the LCWIP and will be part of separate workstreams that aim to improve walking and cycling provision at smaller local scales. For example, we aim to develop 'Liveable Neighbourhood' schemes to increase the comfort, safety and accessibility of walking and cycling on residential roads by recognising the importance of these streets as places for people, and not just their importance for the movement of vehicles. 'Liveable Neighbourhoods' will create attractive local environments that connect residents to the wider LCWIP network and make walking and cycling easier, safer, more enjoyable, convenient and fun for everyone. To find out more about our plans for walking and cycling at the street and neighbourhood scale, please see our Local Transport Plan policies for Planning for Place and for Active Travel and Personal Mobility.
If you would like to view the Woking Town LCWIP report in full, or see the annexes, please email surreytransportplan@surreycc.gov.uk to request a copy.
Executive summary
The Woking Town LCWIP's key proposals are cycling and walking routes, which together create a cycling and walking network for the borough.
All cycling and walking routes identified in the LCWIP have been designated as either Phase 1 or 2. This helps to prioritise investment over the LCWIP's ten-year lifespan. Phase 1 routes are those that we aim to implement in the short-term, whilst Phase 2 routes are those that we aim to implement in the medium to longer term. Prioritisation of the routes is based on a number of factors, including:
Present and future demand for the route, including current usage, road traffic collision data and projected usage.
The quality that improvements will deliver compared to the provision that currently exists on the route.
How the route will contribute to increased access for walking and cycling to key destinations such as schools, doctors' surgeries, hospitals, rail and bus stations, high streets, and parks.
The Woking Town LCWIP report and annexes include network maps that show the locations of all of the proposed cycling and walking routes. It also includes initial recommendations for the Phase 1 routes and explains and lists the prioritisation programme for the different cycling and walking routes.
The LCWIP has considered the full extent of the town, with an emphasis on key trip attractors and destinations that will encourage and allow more people to take up walking and cycling as their everyday types of travel.
Cycling network
Woking has an established cycle network in the Planet Trails (on Woking Borough Council website). These are a planet-themed suite of cycle routes that cover much of Woking borough, introduced as part of the Cycle Woking initiative in 2009.
The LCWIP builds upon this investment to reach more of Woking's neighbourhoods with better quality cycling facilities.
Phase 1 cycling routes
Europa trail
This route connects Horsell High Street to Woking town centre via Church Hill, Brewery Road and Chobham Road Bridge. It will upgrade existing provision.
Lockfield Drive
Following Lockfield Drive, the route will run from the roundabout at Lockfield Drive and Littlewick Road to the town centre.
Saturn trail (Arthur's Bridge to Monument Road)
This route covers the Basingstoke Canal towpath in both directions from the town centre. It will run to Hermitage Road Bridge in the west and Lambourne Crescent and Bishop David Brown School in the east.
Recommendations for this route focus on the section of the Saturn Trail between Arthur's Bridge in the west, through the town centre to Monument Road in the east. This section currently experiences high levels of cycling and it is an important connection between other existing and proposed cycle routes. Improvements will be sensitive to the canal's other functions. For instance, no new lighting would be installed away from the town centre, and cycle calming would be introduced to help walkers and cyclists share the towpath where separation is not possible.
Ceres trail (The Broadway to Albert Drive)
Via Victoria Arch, this route connects West Byfleet railway station to Woking town centre. It follows Woodland Avenue, Sheerwater Road, Albert Drive, Arnold Road, Maybury Road and The Broadway.
Recommendations will improve upon the route's existing conditions, focussing on increasing comfort, safety and making the route easier to navigate.
Deimos trail
Connecting Lion Retail Park to Woking town centre at Victoria Arch, this route follows Oriental Road, Station Approach and Victoria Road. Improvements will be made to upgrade the existing cycling facilities.
The map shows the locations of the Phase 1 cycling routes: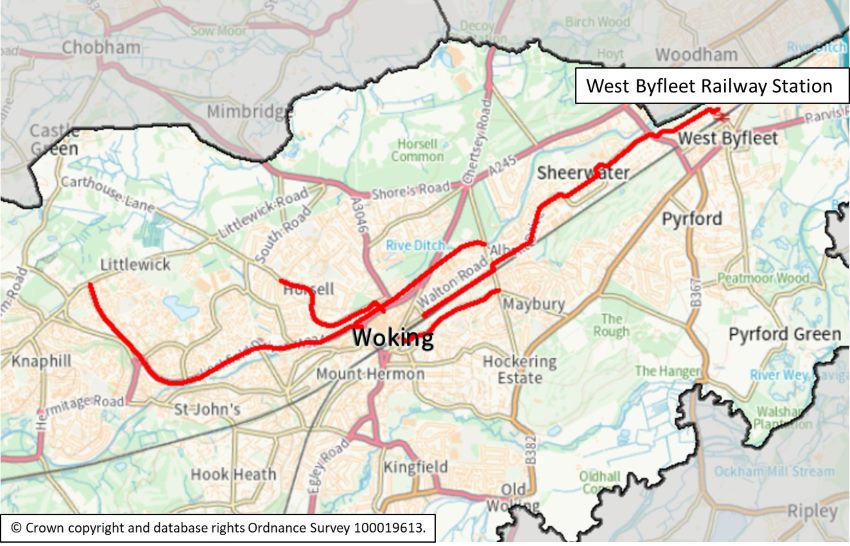 Phase 2 cycling routes
Jupiter Trail. This route connects Woking High School to the town centre via Ridgeway, Footpath 19, Brewery Road and Chobham Road Bridge.
Pluto Trail. Following Victoria Road, Inkerman Way, Barrack Path, Robin Hood Road, St Johns Road, Kingsway, Goldsworth Road and the High Street, this route connects Knaphill centre to Woking town centre at Victoria Arch.
Fisher's Hill to Goldsworth Road Morrisons. Via Mile Path, College Lane, Triggs Lane and Goldsworth Road.
Fisher's Hill to Guildford Road. The route will follow Mile Path, Wych Hill, Star Hill and Wych Hill Lane. Two alternative options are being considered for the second section of the route: either along York Road to the junction with Guildford Road; or continuing along Wych Hill Lane to follow Guildford Road to Claremont Avenue. These options will be investigated further when the route reaches the feasibility stage of its development.
Earth Trail. This route links Elm Bridge to the town centre via Woking Park, Constitution Hill, Guildford Road and Victoria Way.
Mars Trail (South). Linking the southern entrance to Woking railway station to Mayford Roundabout, this route follows Westfield Road, Westfield Avenue, Woking Park and White Rose Lane.
Mars Trail (North). This route links Ottershaw to Woking railway station via Brox Road, the A320 and Chertsey Road.
Oberon Trail. This route follows Maybury Hill to link Maybury Inn and Maybury Road.
Venus Trail. Via White Rose Lane, this route links Hoe Bridge School to Woking railway station.
Walking network
Phase 1 walking routes
Chertsey Road
This route follows Chertsey Road from Woking railway station to Carlton Road.
Recommendations include improvements to address the narrow footways, close proximity to traffic and high traffic speeds that are present along much of the route. A review of crossing locations will improve both convenience and safety. It is recommended that the missing section of footway linking to the entrance to Horsell Common and an associated crossing should be installed. The route would also benefit from the introduction of tactile paving, dropped kerbs, and resurfacing.
Maybury Road
This route runs northeast away from Victoria Arch on the High Street, Broadway and then along Maybury Road to the Maybury Arch. The route is of high quality in the town centre, and this should be extended beyond Locke Way and out of the town centre.
Recommendations include resurfacing and widening pavements, making them fully accessible, removing pavement clutter, removing or replacing vegetation and addressing issues of cars parking on pavements. The route has high traffic volumes, speeds and noise, which will ideally be reduced. Sight lines and conflict points with both motor vehicle traffic and bicycles will be reviewed. There is no pavement on the south side of Maybury Road meaning that access to the bus stops located there and to the pavement on the south side of Broadway needs improvement.
Maybury Hill: canal to College Road section
Running from Monument Road canal bridge, the route follows Monument Road and then Maybury Hill to its junction with Old Woking Road. As this is already a popular route for pedestrians, the College Road section of this route is being prioritised for comprehensive improvements. Targeted improvements will consider the remainder of the route.
The prioritised section of the route would benefit from measures to reduce the dominance of motor vehicle traffic, as well as the replacement of damaged street furniture, and cleaning. On Maybury Hill, there are issues with footpath condition and proximity to traffic, and a need to introduce and modernise accessibility features such as dropped kerbs and tactile paving.
White Rose Lane: Woking railway station to Woking College section
This route runs from Station Approach, along White Rose Lane to the Jack and Jill steps, and through the park. It heads between the ponds and passes to the east of the leisure centre before following Elmbridge Lane and Sundridge Lane to the St John the Baptist School and Woking College.
Horsell
From Jubilee Square, the route heads north on Mercia Walk and Bedser Bridge, along the east side of Horsell Common and uses the footpath network around St Andrew's School to reach Wilson Way, Horsell High Street and Horsell Church of England Junior School. An additional section extends from the footpath network around St Andrew's School and along Ridgeway (a private road but with a public right of way) to reach Woking High School.
The off-road footpaths on this route are surrounded by high fencing, whilst footways are narrow and in poor condition in places. Improvements should address this, and the footpath network would also benefit from improved signposting. In the Horsell High Street area, high motor vehicle traffic dominance discourages walking to the high street and the condition of the footways is poor in places. Accessibility measures, such as dropped kerbs and tactile paving, are lacking and needed in some locations including outside Woking High School.
The map shows the locations of the Phase 1 walking routes: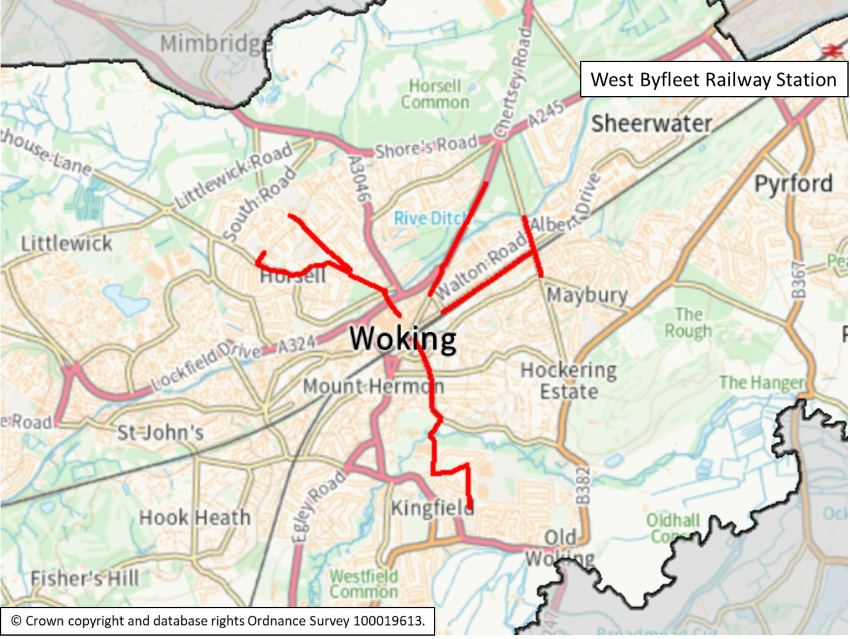 Phase 2 walking routes
Basingstoke Canal (West). This route runs from Chobham Lane bridge to Langmans Lane bridge, heading west from the town centre.
Basingstoke Canal (East). This route runs east from the town centre, from Chobham Road bridge to the path that connects the canal towpath to Blackmore Crescent, near Bateson Way in Sheerwater.
Oriental Road. Serving the southern entrance of Woking railway station, this route follows Oriental Road, College Road and East Hill to the junction with Old Woking Road.
Heathside Road. From Station Approach, the route follows Heathside Road and then Pembroke Road to its junction with Maybury Hill.
Park Road. This route begins at Oriental Road, briefly follows Heathside Crescent, and follows Park Road to the junction with Old Woking Road.
Guildford Road. From the southern entrance to Woking railway station, the route follows Station Approach southwest to join Guildford Road, Constitution Hill and then re-joins Guildford Road to the Turnoak Roundabout. An additional section of this route runs along Mount Hermon Road, whilst another spur follows Claremont Avenue and the A247 to Woking football club. A third additional section connects Constitution Hill to the football club and White Rose Lane via the park.
Goldsworth Road. This route follows Goldsworth Road and Bridge Barn Lane from Victoria Arch. It crosses Arthur's Bridge and then follows Lockfield Drive and footpaths through the centre of Goldsworth Park estate to reach Kestrel Way. An additional section from Goldsworth Road extends to follow Kingsway and St Johns Road to the junction with Janoway Hill Lane.
Chobham Road. This route runs from Chertsey Road to Woodham Lane, along Chobham Road.
Wych Hill Lane. From Turnoak Roundabout, the route follows Wych Hill Lane, Triggs Lane and Goldsworth Road to the junction with Bridge Barn Lane.
Twin Bridges. This route follows Mount Hermon Road along footpath 68. It crosses Goldsworth Road and the canal via Step Bridge to reach Horsell Moor Recreation Ground. An additional section leaves footpath 68, joining and running along footpath 69 and De Lara Way to the junction with Kingsway.
Next steps
The Woking Town LCWIP report should be used to support the case for further stages of design, assessment, and stakeholder engagement, and to secure funding to progress improvements for the routes identified by the report. Because the LCWIP is intended to facilitate a long-term approach to developing active travel proposals, over a period of approximately 10 years, all of the routes identified are recommended for further consideration at an appropriate time.
The next stage of implementing the LCWIP will be to further develop the design concepts for the Phase 1 cycling and walking routes into a feasibility level of design and assessment. This will include full public consultation, allowing residents and other local stakeholders to have their say on the individual scheme proposals.
The LCWIP will be reviewed and updated periodically, particularly in response to significant changes in local circumstances such as the publication of new policies or strategies.
If you wish to view the full Woking Town LCWIP report or report annexes, please email surreytransportplan@surreycc.gov.uk requesting a copy.
Chertsey Road
The section of the Chertsey Road Phase 1 walking route between Woking railway station and Duke Street has recently been improved through the provision of a wider footway, resurfacing, traffic calming measures and the introduction of new plants to improve drainage in line with the LCWIP recommendations.