We select, you collect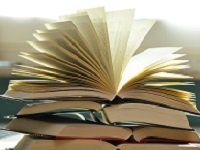 Helping you discover your next great read.
Throughout the coronavirus pandemic we have expanded our digital offer, ensuring that our customers can continue to enjoy a range of services including eBooks, eAudio and eMagazines plus online rhymetimes, storytimes and craft activities on our Facebook page and.
We know that many of you have missed visiting the library and borrowing physical books. As our libraries reopen we are aware that some of you may not feel safe to browse - so we are launching Ready Reads, a new book collection service, where our teams handpick a selection of books according to your preferences, and you can collect them from your nearest open library.
You can sign up for Ready Reads by using our simple Ready Reads request form.
Our teams are experts at choosing good books and they are looking forward to using their experience and knowledge to help you discover your next great read. We hope signing up for Ready Reads will give you a chance to try something new. Who knows - you may just discover your next favourite author!
If however you know exactly which books you want to read next, please use our catalogue as usual to reserve specific books.
Terms and conditions
This service is currently free to allow some access to books during social distancing measures.
The service will regularly be reviewed and changes to collection frequency may be made in relation to demand.
The service will aim to contact customers within 5 working days, but this will vary according to demand.
This service can only be used by applying in advance through the digital form or by calling the Contact Centre on 03456 009 009 (select option 6). Requests on the door will not be possible.
The service is intended for library staff to select books in subject matters the customer is interested in. The library service cannot select individual titles. If a customer wishes to select an individual title, they should use the usual reservation service.
Standard charges apply to audio/visual items.
Customers must take care when providing contact details as any incorrect information may result in their request not being processed.
Books will only be selected from within the library of collection.
The service will be reviewed in September 2021 and if there is a change in service delivery, we will inform customers.
Items borrowed using the Ready Reads service count towards customers' overall borrowing limits.
Privacy statement
The data you provide will only be used to process your requests for Ready Reads book collection service and provide you with information about the book collection service. It will not be shared with third parties. Your data will be retained for a maximum of two years from the end of the book collection service. The legal basis for the use of this information is Performance of a public interest task. Please see our libraries privacy notice for further details. If you have a concern about the way we are collecting or using your personal data, you should raise your concern with us in the first instance or directly to the Information Commissioner's Office.