Surrey has a rich and varied sporting life. Today it has polo pitches, golf courses, pretty village cricket pitches and of course a first class cricket team. In the past there was stoolball (an early form of rounders), baseball and motor racing.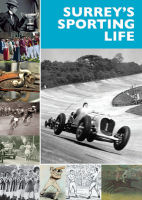 Let this book take you on a journey through Surrey's sporting history - cricket, football, cycling, horse racing, skiffing, shooting, golf, boxing and much more.
Produced by Surrey Heritage for Surrey County Council
24pp, 49 illustrations
Price £5 plus £3.50 p&p for UK deliveries
Available from the Surrey Heritage online shop or from Surrey History Centre, 130 Goldsworth Road, Woking, Surrey GU21 6ND. Please make cheques payable to "Surrey County Council".