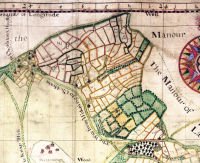 A selection of parish, manorial and enclosure maps, listed below, are available on CDs.
Some of these maps relate to parishes for which there is no tithe map or the tithe map, because much of the land in the district was not subject to tithe, does not provide full coverage.
The CDs are £30 each (plus £3.50 postage and handling for UK; £4 Europe; £5 rest of world) from the Surrey Heritage online shop. When you order, please ensure you tell us which map you would like. Alternatively, you can send a cheque made payable to "Surrey County Council" to Surrey History Centre, 130 Goldsworth Road, Woking, Surrey GU21 6ND. Please note, for overseas customers we can only accept Sterling cheques drawn on a national bank in the United Kingdom.
There is one disc for each map, containing high resolution coloured digital images of the map, presented using software which allows you to navigate around the map and zoom in on sections. A transcript of the key to the map is provided where there is one.
These discs require Microsoft Windows to run.
All the material on the discs can be viewed in the search room at Surrey History Centre.
Map CDs
Horsell Map by Edward Ryde 1851, SHC ref 6198/11/188 (Map, transcript of key; and for further research an Excel spreadsheet containing Reference book data, digital images of the Reference Book and a comparison with the 1851 census.)
Cobham Manor Map 1807, SHC ref 2610/1/38/21 (Just the map which includes names and acreages; this map does not have a separate key.)
Crowhurst Manor Map 1679, SHC ref 6960/1 (Map, transcript of key; and for further research an Excel spreadsheet containing the transcript of the key in reference number order.)
Ewell Enclosure Map 1802 and Award 1803, SHC refs 6054/1 and 8887/1 (Map, transcript of the Award and Award Schedule and images of the original Award; and for further research an Excel spreadsheet containing the Award Schedule data in plan number order.)
Molesey East and West Enclosure Map 1821, SHC ref QS6/4/30/1 (Map which includes names and acreages; this map does not have a separate key.)
Molesey Matham and Molesey Prior Manors Map 1781, SHC ref K81/3/1 (Map and transcript of the key; and for further research an Excel spreadsheet containing the transcript of the key in parcel number order.)
Thorpe Manor Map 1809, SHC ref 2675/81/11-12 (Map, transcript of the key and images of the original key; and for further research an Excel spreadsheet containing the transcript of the key in plan number order.)
Woking Manor Map 1719, SHC ref G97/5/63 (Map, transcript of key to the map and images of the original key; and for further research an Excel spreadsheet of the key.)