Searching for that special present?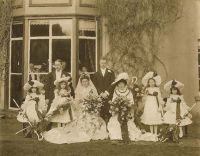 A Surrey History Centre Research Service Gift Voucher makes an ideal present for anyone who would like professional research undertaken at the History Centre. Whether it is for a specific topic or simply to get someone started with their family history, our trained staff will undertake to research a variety of topics under instruction from the holder.
An hour may not seem like very much but with their detailed knowledge of our resources, our researchers can usually carry out more research in one hour than most people can in four times that period of time.
If you would like to give someone their very own piece of the past, you can purchase one of our vouchers from the Surrey Heritage online shop or from Surrey History Centre, 130 Goldsworth Road, Woking, Surrey GU21 6ND. Please pay by Visa/Mastercard/Debit card or make cheques payable to "Surrey County Council". If you are contacting us from outside the UK, please let us know your country of origin as changes in VAT legislation may affect the services we can provide.
The price for a voucher for one hour's research is £50. Post free.
More about the Surrey History Centre Research service.
Voucher Terms and Conditions
Vouchers can only be redeemed for the Research Service at Surrey History Centre.
Cash value of each voucher £0.01
Research includes VAT, postage, administration, photocopies, transcription and printer copies, where relevant.
No fee will be refunded.
We are unable to accept research on rights of way, access and boundary disputes.