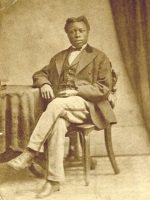 For centuries, people have moved to Surrey from all over the UK and throughout the world. Some came as merchants, some as economic migrants and others came enslaved, and they appear in the county's historical records from the sixteenth century. Through these records we can see the diversity of the county's inhabitants and glean an important insight into the lives of Black people in Surrey over the centuries. This brief guide helps show how Surrey History Centre can help you discover Black family and community history.
Where to start?
Tracing Black ancestors can be challenging as few records may be held in Britain. Each country maintains its own archives and register offices and records may be incomplete or not survive. However, there is a growing awareness around making Black History accessible and it is an area of research which is opening up with more records available online every month. Below are just a few of the sources that may be useful to you:
Birth, marriage and death records (slave marriages are rare, and slave burials were often unrecorded as they usually occurred in the grounds of the plantation or house)
Baptism registers (the baptism of slaves was discouraged until the late 19th century)
Military records
Personal papers and wills
Newspapers & Directories
Electoral Registers
Migration records such as passenger lists and naturalization records
Land and Property papers, including Plantation Records, and records of the Slave Registry and Slave Compensation Commission
Bibliography
For centuries Black people have lived and worked in Surrey, or passed through the county en-route to London and the coast. The books and periodicals listed below give a flavour of how you can research Black History using our websites and the Local Studies Library collection at Surrey History Centre, in Woking. Our collections are free to use and open to all. Further books can be found by searching the online Surrey Libraries Catalogue.
General and biography
Frow, Mayerline, Roots of the future: ethnic diversity in the making of Britain, CRE, 1996.
Laver, Ann, Sugar, slaves and Surrey, dissertation, 2001.
Gill, Anton, Empire's children: trace your family history across the World, Harper, 2007
Equiano, Olaudah, The interesting narrative and other writings, edited by V. Carretta, Penguin, 2003.
Morgan, Kenneth, Guide to the microfilm edition of papers relating to the Jamaica estates of the Goulburn Family, Microform Academy Publishers, 2008.
Craft, William and Ellen, Running a thousand miles for freedom, first published, 1860
Bourne Stephen, Britain's Black Community and the Great War: Black Poppies, The History Press, 2014.
Equiano, Olaudah, The interesting narrative and other writings, edited by V. Carretta, Penguin, 2003.
Dabydeen, David and Gilmore, John, The Oxford companion to Black British history, OUP, 2015
Olusoga, David, Black and British: a forgotten history, Pan, 2017
Family History guides
Kershaw, Roger and Pearson, Mark, Immigrants and aliens: a guide to sources on UK immigration and citizenship, PRO, 2004.
Kershaw, Roger Migration Records: a guide for family historians, The National Archives, 2009.
Gandy, Michael, Family history cultures and faiths, National Archives, 2007.
Grannum, Guy, Tracing your West Indian ancestors, PRO, 2002.
Periodicals
Ancestors, Issue 10, October/November 2002, contains an article 'Tracing African slave ancestors' by Paul Crooks.
Practical Family History, Armstrong, Boon and Marriot, 1998 to date.
Wandsworth Historian, issue 42, Sep 1984, 'Black People in 17th and 18th Century Putney'.
Online resources
The online family history sites Ancestry and FindMyPast contain a vast range of records and guides, and are free to use at Surrey libraries and Surrey History Centre. Our Exploring Surrey's Past website features Black History theme pages uncovering all aspects of Black History in Surrey, from slavery and abolition, to industry and literature. The website features a full list of online sources for researching the subject accompanied by research resources, further reading and useful links.
Other websites that can help include the following:
Image
Portrait photograph of John Springfield, shoemaker of Guildford and son of Zanzibar Chief, c.1880s (SHC ref 1714/1)