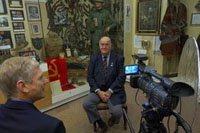 Buried Battles and Veterans' Voices was Surrey History Centre's two year project to preserve and make accessible the documentary, photographic and oral history heritage of the Queen's Royal Surrey Regiment and its predecessors. Through the generous support of the Heritage Lottery Fund and the collaboration of our partners the Queen's Royal Surrey Regimental Museum and the National Archives, the project was brought to a successful conclusion in April 2008.
The history and heritage of the regiment have been brought to life through the four aims of the project and can now been enjoyed by all.
Reminiscences of veterans of the regiment have been recorded for posterity. Extracts from these reminiscences, grouped by theme and with transcripts attached, have been mounted on the website of the Queen's Royal Surrey Regimental Museum and Association, allowing you to listen to former soldiers recount their experience of life in the regiment and of some of the defining moments of the Second World War such as Dunkirk, the fall of Singapore and the North African, Italian and Burma campaigns. You can also hear about vital but less well-known post-war operations in Palestine, Malaya, Korea and Northern Ireland. Listen to the recordings at Buried battles and Veterans' Voices.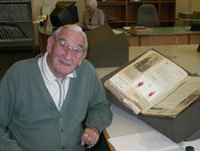 The historic records and photographs of the three regiments, held by Surrey History Centre, have been fully catalogued allowing researchers across the world a comprehensive picture of the scope of the collection. These catalogues can be searched using our online catalogue.
The contents of the 300 photograph albums which formed part of the archives of the regiments have been catalogued in detail by volunteers. The names of all the individuals depicted have been recorded allowing users swiftly to locate photographs of 19th and 20th century soldiers in whom they are interested. The detailed catalogues are available at Surrey History Centre.
A travelling exhibition to promote the project and the history of the regiments has been created to tour libraries and museums.
Images
Interview with Roy Harding for Buried Battles and Veterans' Voices
Volunteer and REME veteran, the late Sid Richardson, indexing the Surrey Regiment albums