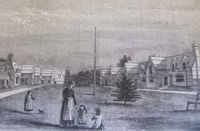 The Princess Mary Village Homes were founded as an expression of the evangelical piety of two Victorian ladies Mrs Susanna Meredith and Miss Caroline Cavendish. After extensive work with female prisoners, in 1870 she turned her attention to the children of criminal parents whose physical and moral health were threatened by the poverty and depravity of their environment. The first little girls were sent to foster parents in and around Addlestone, but as the numbers increased this was found to be inconvenient and in 1870 a home was set up in Essam Farm House, Longcross, by Miss Cavendish.
It would seem that the ladies recognised the value of small family groups reflecting normal family life and so the idea of a village of cottage dwellings was born with house mothers caring for about ten children in each. In 1872 The Princess Mary Village Homes for Little Girls was established "…for the board, lodging, clothing and education of little children who have parents convicted of crime or who have no home, or are exposed to demoralising influences (see SHC ref 2591/4/1). In the same year, Homes were certified by the Home Secretary as an Industrial School under the Industrial Schools Act of 1866 (see SHC ref 2591/4/3).
This first register of cases (SHC ref 2591/3/1) covers the period 1870-1890 and gives the name, background and subsequent history of each girl. The girls from the Princess Mary Village Homes come from two specific backgrounds, either they were committed under the Industrial Schools Act (with its various incarnations) or they were placed voluntarily by parents and guardians. Sponsors undertook to provide monetary contributions to support the latter, with parents and guardians being expected to contribute wherever they could. Occasionally, a philanthropic or religious group or institution would sponsor a child.
The above case book is accessible to anyone who wishes to visit the Surrey History Centre but subsequent case books and admission registers in this collection are subject to restrictions under the Data Protection Act.
This index was made by Jane Lewis.
---
Files available to download