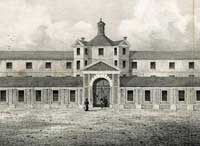 Guildford Poor Law Union was formed in 1835 and a new Union Workhouse was erected in 1836. The infirmary was at the rear of the main building.
For more information on Guildford Workhouse see Peter Higginbotham's excellent website The Workhouse.
The Spike Heritage Centre now occupies the building which used to be the "casual ward" of the Guildford Workhouse.
Image: Guildford workhouse c.1838 (SHC ref PX/72/610). Click on the image to enlarge it.
These transcripts were created by Nick Kurn, one of our Surrey History Centre volunteers.
Guildford Workhouse Births 1866-1910 (SHC ref BG6/37/1)
Guildford Workhouse Deaths 1887-1914 (SHC ref BG6/38/1-2)
Guildford Infirmary Deaths 1933-1939 (SHC ref BG6/38/4)
To search the indexes, simply select the filenames below.
---
Files available to download