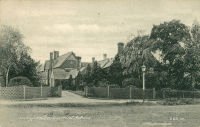 Prior to 1884, the justices of the peace for Surrey, as the prison authority, did not administer any reformatories or industrial schools in the county. Instead, the County entered into agreements with a number of institutions within and outside Surrey which had been established independently.
In 1884 the County took a lease of the Surrey Industrial School for destitute boys which was originally established in Wandsworth by John Leyland in 1867 and removed to Byfleet in 1871. In 1885 it was decided to purchase land at Mayford, Woking, for the construction of a new County industrial school, which opened in 1887, the lease of the Byfleet school being given up. In 1888 management was transferred to the London County Council, although an arrangement to maintain Surrey boys was agreed.
The first register of admissions (SHC ref CC279/1/1) covers the period 1895-1907 and gives the name of boy; date of birth; offence; date of admission; previous character; educational standard; physical description; names, occupations, circumstances and address of parents; and date of discharge. (According to a letter at the back of this volume 12 pages of the register are missing.)
The above case book is accessible to anyone who wishes to visit the Surrey History Centre but subsequent case books and admission registers in this collection (CC279) are subject to restrictions under the Data Protection Act.
This index was made by Jane Lewis.
---
Files available to download