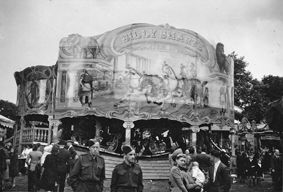 Philip Bradley (1920 to 1999) of Ewell was a passionate fairground enthusiast. At the age of 16 he decided he would systematically keep a written and photographic record of every fair in Britain he visited and the fairground rides and vehicles he saw. From 1936 until his death in 1999 he methodically compiled notebooks in which he wrote about these fairs and accumulated newscuttings. Formed over 65 years Philip Bradley's collection was bequeathed to Surrey History Centre and is of national importance, providing an invaluable history of twentieth century fairgrounds. Hugely respected within the Fairground fraternity, his obituary comprised the entire edition of The Fairground Mercury, December 1999.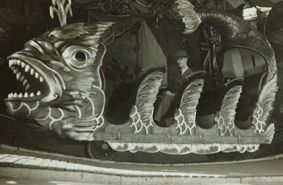 Most of the fairgrounds Bradley visited were in the Greater London area such as those at Hampstead Heath, Clapham Common and Ealing Common but he was a regular visitor to Surrey fairs at Mitcham, Milford, Epsom, Tattenham Corner, Leatherhead, Walton on Thames, Reigate, Tolworth, Guildford, and many others; during summer holidays he also visited fairs in Wales, Somerset, Yorkshire and the Isle of Man. His 44 fair notebooks are full of fascinating technical and social detail particularly during wartime: in 1941, Bradley comments that many showmen's engines were carrying out demolition work in blitzed cities such as London and Manchester, and in 1942 he records that the idea of a 'blackout fair' had not caught on. Wartime proved especially difficult for fairground organisers: limited supplies of food, fuel and 'swag' caused frustrations; coconut shies became rare as coconuts took up valuable shipping space and rifle ranges were deprived of ammunition. Music was also muted in case it drowned out the air raid sirens.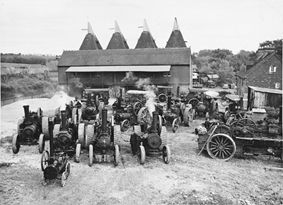 Bradley took photographs of the fairs he visited and developed all his own photographic prints. Concentrating on fairground machinery, equipment, and transport, his collection of 30,000 photographs was carefully arranged by type of machine or ride, subject or vehicle. All manner of shows and stalls, rides and machines, engines and steam wagons, showmen's living wagons, fairground vehicles, packing trucks and fair convoys are captured in his photographs, along with some of the most famous British fairground shows such as Billy Smart, Bensons, Chipperfields, Bertram Mills and Pat Collins. Each photograph is meticulously numbered, cross-referenced and dated in the notebooks and Bradley even recorded what cameras he was using over the decades. The photographic collection also includes prints taken by friends and fellow fairground enthusiasts and reflects Bradley's other interests such as all forms of transport, cranes, tramways, railways and bridges.
Bradley, who worked as an engineer for the London Electricity Board, was one of the first fairground enthusiasts to sketch and make detailed notes on the specifications of fairground machines, engines and vehicles. His data books record the development and changes in many fairground machines between 1943 and 1998 and he wrote many articles on the subject, including a series of articles entitled "Some notes on the development of fairground machinery" published in The Engineer in 1954 (see Surrey History Centre (SHC) reference 6790/2/ 1 to 4). Passionate about model railways and Meccano he further wrote about making models of fairground and railway prototypes.
Records
The collection (SHC reference 6790) comprises:
44 volumes of 'Fair notes' dating from 1932 to 1999; the 'data books',1943 to 1998; 30,000 photographs including the 'Showland Snapshots' series, 1936 to 1999; published material including Bradley's own articles for London Electricity, The Fairground Mercury (quarterly journal of the Fairground Association), 1942 to 1999; patent specifications for fairground rides and equipment, 1876 to 1965; fairground model designs, 1975 to 1989.
(Please note that 24 hours notice is required if you wish to see colour photographic materials in 6790/5/2/ 1 to 2160, 6790/5/6/ 1 to 1180, 6790/5/7/501 to 1103, 6790/5/8/ 1 to 617, 6790/5/10/ 1 to 718, 6790/5/11/BOX7 and 6790/5/12/ 1 to 13.)
Bibliography
Bradley, PW. Some notes on the development of fairground machinery. Doug Roseaman Engineering, 1997.
Scrivens, Kevin and Smith, Stephen. Philip Bradley, Fairground photographs and notes January 1932 to December 1938. New Era, 1999.
The Fairground Mercury, volume 22 number 3 3, December 1999. The entire issue is dedicated to Philip Bradley.
---
Images
Billy Smart's 'Ben Hur', Ealing Common, 18 June 1943 (SHC reference 6790/4/6 F2883)
Philip Bradley seated in an Orton and Spooner 'Whale Car' at Butlins Ltd, Florence Park, Oxford, 28 August 1943 (SHC reference 6790/4/8 F2982)
C W Lambert's yard, Horsmonden, Kent, with a range of traction engines, 1949 (SHC reference 6790/4/11 F5362)