Prehistoric and later archaeology in the Thames valley, near Chertsey
By Graham Hayman, Phil Jones and Rob Poulton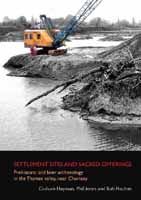 This monograph looks at the Prehistoric and later archaeology in the Thames valley, near Chertsey, an area which has seen a large amount of archaeological work in the last 25 years. It details the results from four of the sites investigated, and provides a review of their geological, topographic and archaeological context.
Prestige artefacts, including the only Iron Age shield in Europe made entirely of bronze and a Late Bronze Age axe with wooden haft, were recovered at Abbey Meads and Shepperton Ranges, from former channels of the Thames. These votive deposits belong to all periods from the Mesolithic to the Late Saxon, and suggest that particular places along the river acquired and retained sanctity over a very long time.
A trial trench sectioned the earthworks of the hillfort at St Ann's Hill, and another established that at least one area within the enclosure had been densely occupied during the Early Iron Age.
Excavations at Thorpe Lea Nurseries revealed a Middle Bronze Age rectilinear field system and associated occupation sites. More intensive Iron Age occupation began in the Middle Iron Age, and one farmstead was then continuously occupied until the end of the 4th century AD. Rare and important evidence for an Iron Age iron smelting industry was widely distributed.
Settlement Sites and Sacred Offerings: Prehistoric and later archaeology in the Thames valley, near Chertsey
By Graham Hayman, Phil Jones and Rob Poulton
SpoilHeap Monograph no 4
ISBN 978-0-9558846-4-1
204 pages, 122 illustrations, 1 x A3 black and white plan (foldout) and 2 x A3 double-sided colour plans (foldout)
Price £20 plus £3.50 postage and packaging
To order this volume please go to Surrey Heritage Shop - Surrey Archives
For a copy of the digital supplement, please email archaeology.scau@surreycc.gov.uk