1968-73 and 1983-4
By Rob Poulton, with Simon Thurley and Alan Cook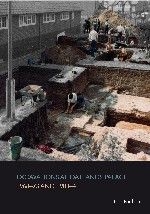 Oatlands Palace was created by Henry VIII, on the site of an earlier manor house, but demolished under the Commonwealth in 1650. Research excavations began in 1968 in order to establish the exact site of the vanished buildings, their plan and their development. This work continued intermittently until 1973, and was followed by rescue excavations, which occurred when the housing estate that covered part of the site was redeveloped in 1983 and 1984. The results of all this work are presented here, and related to the evidence of documents and pictorial records.
A moated manorial or sub-manorial site existed from around the late 13th century. The site was acquired by Bartholemew Read, a wealthy London goldsmith, soon after 1478, and he created a substantial brick built courtyard house. He subsequently extended this structure to create a (mock) fortified manor, with towers at three corners of the moated island, and a tower house at the fourth.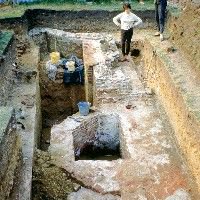 This substantial house formed the core of the privy court of the Palace that Henry VIII created between 1537 and 1544. Henry's plans for the house evolved in stages, with development initially largely confined to the moated site. The moat was subsequently drained, and a middle court (with substantial ranges of accommodation) and an outer court (including the kitchen, buttery, and other offices), built in front of what became the privy court. Oatlands was primarily the queen's palace, forming part of a group within the Honor of Hampton Court, with Hampton Court (the king's palace) and Nonsuch (the prince's palace).
Henry VIII and his queens made considerable use of Oatlands, and so did subsequent monarchs. The demolition of 1650 was very thorough, leaving only a wall of the outer court standing. The contents of a series of garderobes, containing material of the 1640s, were sealed by demolition rubble, and these groups form the most interesting of the finds from the excavations.
Excavations at Oatlands Palace
by Rob Poulton, with Alan Cook and Simon Thurley
SpoilHeap Monograph no 3
ISBN 978-0-9558846-2-7
195 pages, 141 illustrations, A2 colour plan
Price £15 + £3.50 postage and packaging
To order this volume please go to Surrey Heritage Shop - Surrey Archives
For a copy of the digital supplement, please email archaeology.scau@surreycc.gov.uk