Prehistoric, Roman, Saxon and Medieval discoveries at Wey Manor Farm, near Weybridge 1994–2004
by Graham Hayman, Phil Jones, Nick Marples and Jane Robertson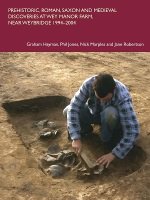 Archaeological excavations between 1994 and 2004 in the Wey Manor Farm quarry revealed features and artefacts spanning almost the whole of the Holocene period. A Late Upper Palaeolithic flint scatter forms a major body of new evidence for that period, while the Mesolithic flintwork is an important addition to the known, largely riverine, distribution of Mesolithic sites within the Thames Valley. Neolithic and Early Bronze Age activity remained peripatetic, with several flint scatters and burials, the latter including one or more Collared Urns.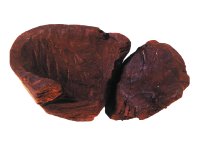 It is probable that a field system developed in the Middle Bronze Age, with associated domestic activity including the rare find of a Bronze Age wooden cup in a waterhole. Funerary activity is more conspicuous, with urned and unurned cremations in several locations, and a ring-ditch surrounding a probable barrow of Deverel-Rimbury date.
An Iron Age ditch was probably associated with a boundary dyke and nearby occupation. Elsewhere, a Middle Iron Age eaves-drip trench for a roundhouse was found within a wider spread of Iron Age occupation indicated by finds, pits and gullies. This was succeeded by a system of enclosures, belonging to a farm of comparatively low status, established around the time of the Roman Conquest and continuing until abandonment about AD 200. The next significant activity was in the Early to Middle Saxon period when the occupation may have been associated with a nearby ritual site. Further settlement occurred from around the 12th century, and was on two sites, one continuing until the end of the medieval period.
SpoilHeap Occasional Paper 6
ISBN 978-0-9576509-5-4
133pp, 71 illus, 21 tables
Price £15 plus £3.50 postage and packaging
To order this volume please go to Surrey Heritage Shop - Surrey Archives
For a copy of the digital supplement, please email archaeology.scau@surreycc.gov.uk