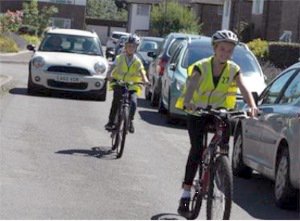 Why set up a cycle training scheme in your school?
The ability to cycle safely is a vital life-long skill. High-quality cycle education enables children to become more confident and competent, more alert to potential risks and hazards, and enables them to really enjoy cycling whilst remaining safe on the road.
Cycle training can support your school travel plan and PE and Sport Premium aims to inspire and excite children about the benefits of cycling to them and the environment. It also encourages and raises awareness of skilful cycling among all road users, encourages active and sustainable travel, and benefits children's health and wellbeing.
What is Bikeability and what's on offer?
Bikeability is a national cycle training programme funded by the Department for Transport. It is cycling proficiency for the 21st century. An improved, updated and more relevant version of the old cycling proficiency scheme, delivered by professional instructors.
Our Cycle Training Team are Surrey's representatives of the national network of trained instructors and offer free cycle training to Surrey schools. Our sessions are fully inclusive, free to school pupils, and we can provide all the necessary equipment.
There are three Bikeability levels, designed to help children improve their cycling skills. Levels 1 and 2 are taught at primary school and focus on teaching trainees the basics of balance and control and road safety awareness. Level 3 is then taught at secondary school.
All sessions are led by professionally qualified, accredited and DBS checked cycle instructors in our Cycle Training Team who provide Surrey school cycle training for over 18,000 pupils each year.
Tailored cycle training for children of primary school age
Pedals training (years 1 and 2): Pupils can take part using their cycles, scooters or even on foot. The activities teach pupils some age-appropriate road safety basics. This is a one hour course in the playground.
Bikeability Level 1 (year 4): At Level 1 riders learn to control and master their cycles in a space away from traffic, such as a playground. The course is typically 3 hours delivered in a single day.
Bikeability Level 2 (year 6): Level 2 takes place on local streets. Trainees learn how to deal with traffic on quieter roads. The course is typically 7 and a half hours over 5 days.
Tailored cycle training for children of secondary school age
Bikeability Level 3 advanced cycle training for secondary students: Level 3 equips trainees with skills for more challenging roads and traffic situations such as busier streets, queuing traffic, complex junctions and roundabouts. It also includes planning routes for safe cycling. This course is delivered one-to-one or in groups of two in a session of 2 and a half hours.
Learn to Ride for all school ages: For complete beginners, those who cannot cycle at all. The aim is to enable pupils to be able set off, pedal, steer and stop. This is one hour course delivered one-to-one.
Learn to Ride (all school ages)
This is for complete beginners, those who cannot ride at all. The aim is to enable pupils to be able set off, pedal, steer and stop. This is one hour course delivered one-to-one.
Book your cycle training
If you do not have a login, please contact the cycle training team via our contact centre 0300 200 1003