Provision in Surrey is expanding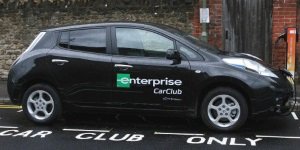 Surrey County Council are working with Enterprise Car Club to expand car club provision county-wide. There are now 30 Enterprise Car Club cars available in seven towns:
Guildford
Woking
Leatherhead
Dorking
Redhill
Addlestone
Walton-on-Thames
And there will soon be car club cars in Egham, Staines and Farnham.
Special membership offer for Surrey residents
Enterprise Car Club are offering all Surrey residents reduced price membership of just £10 per year (normally £60) for the first two years, plus a £10 driving credit when you join.
Just quote the promotional code SURREY44 when you join online or by phone.
What are car clubs?
Car clubs offer an alternative to private car ownership, giving affordable occasional access to cars on a pay as you go basis. They provide a pool of locally parked cars which can be booked online, over the phone, or via a phone app. Membership of a car club gives you access to a car when you need it, without the costs of purchasing a vehicle, and on-going servicing, maintenance and insurance costs.
Easy access to a range of new vehicles
Members have access to all vehicles in the Enterprise Car Club fleet. All the car club cars in Surrey are parked in their own dedicated car club bays, so you simply pick up and return the car to its reserved space. There are a choice of different size and models of vehicles (all less than four years old) to meet your needs. These include electric vehicles for ultra-low emissions.
Sustainability benefits
As well as benefiting its members, car clubs support the council's policies to reduce congestion, improve air quality and increase the use of sustainable transport modes. Research shows that for every car club car provided 10 vehicles are removed from the road.
When car club members join they typically reduce their household mileage and walk, cycle and use public transport more. Car club vehicles emit over 33% fewer CO2 emissions per kilometre than the average British car. Car clubs also reduce parking pressure, as multiple users share one car and one parking space.
How much does it cost?
Members pay an upfront joining fee and then an hourly rental charge of around £4.50 - £5.50 per hour according to the type of vehicle, plus a mileage charge of 21p per mile driven. For those who only need a car occasionally (so, not for everyday commuting) using a car club can provide significant savings compared to car ownership.
For business
Car clubs can also be a good way for businesses to provide their employees with access to pooled cars providing cost, efficiency and safety benefits, compared to the use of personal vehicles for business trips.
Further information
Full details of vehicles, locations and prices are available on the Enterprise Car Club website's Surrey page:
If you would you like a car club car in your local area, do contact Enterprise and let them know.
Contact Enterprise Car Club