In April 2008, a third season of work began on site at Hatch Furlong, near the centre of Ewell. This excavation is run as a training programme for archaeology students at Birkbeck University during the week, and as a dig for local archaeology society members (Ewell Historical & Archaeological Society, and Surrey Archaeological Society) at the weekend.
For the first time there was a designated community, and this was open to members of the local community to come along and take part, especially those who had always fancied a go at digging but had never had the opportunity before. People could do as much as they liked - some signed up for an hour, some for a day, and came back for more!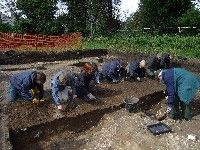 In total over 70 people participated in the Community Archaeology trench, including several young members of the Bourne Hall museum club. Over a very wet two weeks, the group managed to uncover more of the Roman oven (previously uncovered in 2006), and investigate the remains of trenches dug by the local antiquarians in the 1970s.
The fourth and final series of excavations were run in April 2009. In total over 135 people participated in the Community Archaeology trench, which is where two particularly exciting artefacts were found.
Whilst straightening the section sides after machining had taken place at the start of the dig, a piece of Neolithic grooved-ware pottery was found. This dates to around 4000-2500BC, and due to its importance, the edge of site was extended to uncover the rest of the pot.
Another great find came just centimetres below where the local diggers in the 1970s had stopped with their shovels. Volunteers uncovered a smashed Roman cauldron pot with several pieces of Samian pottery lying in the bottom of a ditch. A brilliant find for the end of the Hatch Furlong project!
If you are interested in volunteering on a community excavation, please contact the Community Archaeologist on tel: 01483 518737 or email: education.scau@surreycc.gov.uk