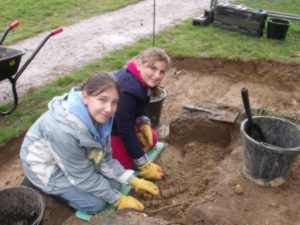 June 2011 saw the archaeological excavation at Sayers Croft Field Centre in Ewhurst. The Sayers Croft team, members of Surrey County Archaeological Unit (SCAU), Surrey Youth Development Service and over 100 children from the local community had a blast digging up the remains of two WW2 air raid shelters.
Students from four Surrey primary schools kicked off the excavation at Sayers Croft, built in 1939 as an evacuation centre for students from Catford Central Boys School in London. The budding archaeologists started the day with an interactive presentation on what archaeology is and a chance to handle and record some real artefacts found in Surrey, before diving into the trenches to learn basic excavation techniques. The children also learned what life was like during WW2 by completing a History Trail and by descending into one of only two remaining bomb shelters on site to brave the Sayers Croft Air Raid Experience!
The Sayers Croft dig was a fantastic opportunity for the children to discover archaeology and has provided a wealth of information about the structure and design of these WW2 air raid shelters. It also produced lots of interesting finds, which tell the story of those staying at the evacuation centre during the war, including a bullet, a sixpence minted in 1944 and a baked bean tin with string running through it.
Throughout the summer, members of SCAU also ran a number of free taster sessions and two-day courses in Basic Archaeology Skills on the site for volunteers to learn about the skills needed when carrying out archaeological assessments. A short film was made about the project by the Community Film Unit, which can be viewed on YouTube.
The results of the dig were on display at the Sayers Croft Open Day in September 2011, as part of Heritage Open Days 2011.
This project has been kindly sponsored by a grant from the Heritage Lottery Fund.