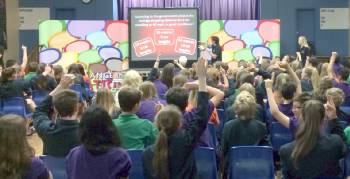 This intervention technique aims to make students aware of the risk and consequences of failure to adopt safe behaviour as pedestrian and as a young driver through an engaging educational theatre production. These road safety productions are targeted at two age groups; Year 7 (independent travellers) and Year 11 (inexperienced drivers).
Year 7
is a transition year between primary and secondary school, and has been identified as an age group of exploration and prone to risk taking, representing a peak in pedestrian casualties.
Year 11
is seen as a year where students prepare for college/sixth form and are exposed to increased peer pressure and risk due to being in the passenger seat of young and inexperienced drivers.
Please contact rebecca.harrison@surreycc.gov.uk 01483 517515 if you are interested in booking a Theatre in Education Road Safety Drama workshop at your school.